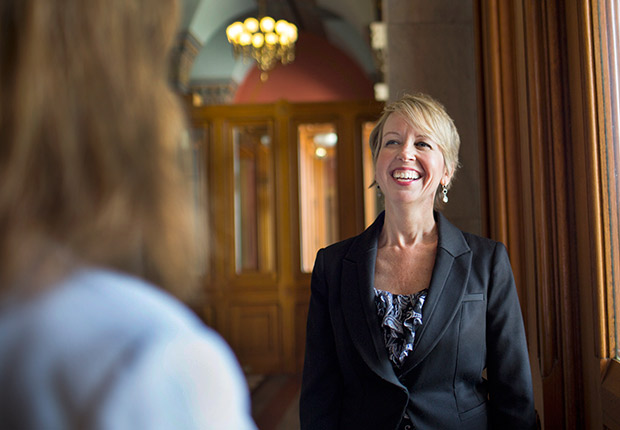 By Natalie Missakian

With state residents facing what is expected to be a close race for governor Nov. 4, AARP Connecticut is making sure voters know where the candidates—Gov. Dannel Malloy (D) and former ambassador Tom Foley (R)—stand on issues that matter to older residents.

"It's going to be a very highly contested, very tight election. It's right up there as being the most competitive race in the country," said John Erlingheuser, AARP Connecticut advocacy director, noting that Malloy defeated Foley in 2010 by 6,400 votes out of more than 1 million cast. "What that means is that the AARP voter is going to be a pretty significant factor in the outcome."

Along with sponsoring candidate forums, AARP Connecticut will be publishing voter guides for all major statewide races. The guides will feature candidates' answers to questions about financial security, family caregiving, and consumer protections for phone and utility service—issues AARP has identified as top concerns for older voters.

About half of Connecticut's approximately 2 million registered voters are 50 or older, according to an AARP analysis. Of those, just under half are AARP members, who typically come to the polls in force, with 4 of 5 voting in the last two presidential elections.

AARP does not endorse candidates, contribute to campaigns or favor political parties. Erlingheuser said the goal is that "whoever the candidates are, they make our issues a priority."

On financial security, AARP wants to know how candidates will help workers save for retirement. AARP advocates for programs that give employees access to workplace savings plans and has fought to protect retirees from cuts in their pensions and cost-of-living adjustments.

AARP will also be asking candidates how they plan to support unpaid family caregivers, who help older adults live independently at home. AARP wants candidates to make home-care services, respite care and training programs for family caregivers a budget priority.

Keeping landline service
Another priority is making sure older residents continue to have affordable, reliable phone service as the industry shifts away from traditional landlines toward wireless and Internet-based services.

Finally, AARP will ask candidates to protect consumers' right to choose a standard, regulated electricity service plan in Connecticut's deregulated retail energy market.

A survey conducted by AARP Connecticut this year found nearly 9 in 10 electricity customers age 50 and over were concerned about rising costs. Nearly three-quarters felt elected officials were not doing enough to help.

The issue came to a head last winter when state officials discovered some alternative energy suppliers were charging more than twice the standard rate charged by traditional power companies. "If we didn't have that standard plan we wouldn't have been in a position to even realize how bad things were because we'd have nothing to compare it to," Erlingheuser said.

In a state with a soaring older population, candidates ought to be listening to AARP's agenda, said Julia Evans Starr, executive director of Connecticut's Legislative Commission on Aging.

"Not only are we the seventh oldest state in the nation in terms of population, but we're third in longevity, so we're living longer," Evans Starr said. "Aging issues are incredibly relevant because we all have a vested interest."

Programs that encourage older adults to save for retirement help the state, because there is less dependence on government services, she said. Supporting family caregivers, Evans Starr said, is a critical need and reduces state spending for costly institutional care.

Although candidates have been focusing on issues such as gun control, jobs and the budget, voters can expect to hear more about older voters' interests as the election nears, said Quinnipiac University political science professor Scott McLean.

Because they turn out in high numbers, the state's older voters "could hold the balance between the candidates," he said.

To review the voter guides, go to aarp.org/yourvote.

Natalie Missakian is a writer living in Cheshire, Ct.