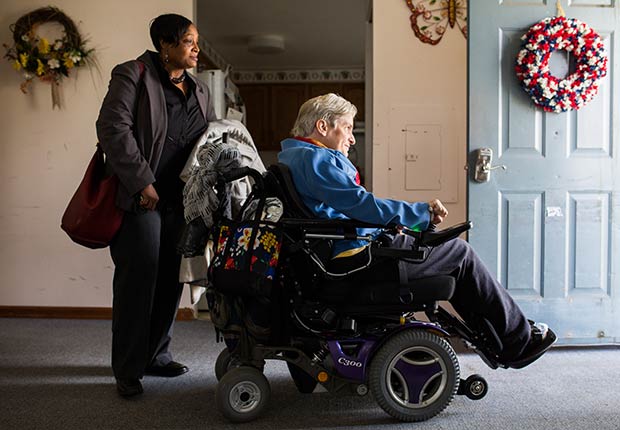 By Natalie Missakian

Mary-Ann Langton used to worry about her future, even with a college education and parents who raised her to be just like everyone else. Born with cerebral palsy, she uses a power wheelchair and needs assistance with tasks like bathing, dressing and cooking.

"After college I moved back home with my mom and dad, but I really worried," she recalled. "What about the day my mom would no longer be able to help me with my personal needs?"

Thanks to a program that allows her to use Medicaid to hire her own personal care assistants (PCAs), Langton, 52, lives independently in a West Hartford housing cooperative, where she serves as president.

As the United States marks the 50th anniversary of Medicaid this July, Connecticut is preparing to launch a program making it easier for Medicaid-eligible adults to hire their own PCAs. The program is part of a national push to direct more Medicaid money toward home- and community-based care as an alternative to nursing homes.

"People want to live in the community where they can share their abilities and be seen as full participants in society," Langton said. "I do not need a nurse. I am not sick," said Langton. "I live a very busy, productive life, but I happen to need assistance with my personal needs. Without a PCA, I would be institutionalized."

Langton was able to hire her PCAs under a waiver, an arrangement with the federal government giving states permission to use Medicaid funds to cover home care. But the number of people eligible for PCAs under the waiver program is limited, leaving hundreds on a waiting list, said Kate McEvoy, director of health services at the Connecticut Department of Social Services.

That is expected to change July 1, when the state implements Community First Choice, an option under the federal Affordable Care Act. Under the program, anyone who is eligible for the service can be covered under Connecticut Medicaid, known as HUSKY Health.

While Medicaid is known as the main public health insurance for low-income Americans, many people aren't aware it's one of the major payers of long-term care, said Claudio Gualtieri, AARP Connecticut associate director for advocacy.

When the program started, "it was nursing homes and that's it," said Gualtieri. But the philosophy has shifted over the years to give consumers more choices.

First to expand Medicaid
Medicaid is a joint federal-state program. In Connecticut, about 50 percent of its funding comes from the federal government. Almost 730,000 people in the state are covered by Medicaid, of whom nearly 50,000 are 65 and older.

Connecticut became the first state in the country to expand Medicaid under the Affordable Care Act in 2010, a move that was strongly supported by AARP Connecticut.

About 170,000 additional residents are now covered under the expansion, including roughly 53,000 childless adults ages 50 to 64, a group previously not eligible for coverage. The federal government currently pays the full cost of covering those added by the expansion; its share will decline to 90 percent by 2020.

McEvoy said the Community First Choice option under Medicaid is also good for the state's bottom line—not only because community-based care is less expensive, but because states offering the program receive a slightly larger federal match to pay for the services.

Meanwhile, "it opens up access to many more people and gives more flexibility and choice," she said. California, Oregon, Maryland and Montana have also implemented similar plans.

Unlike home health aides who typically work for agencies, PCAs are hired and managed directly by the person needing services. For general state information about using long-term care and support services, visit myplacect.org.

Besides doing health-related tasks, PCAs help with errands, driving, household chores and financial duties, such as paying bills. A PCA can be someone the person knows, such as a friend or family member other than a spouse. Their maximum fee is set by Medicaid and is generally less than that of aides working for agencies.

Langton said she likes the freedom to train her PCAs to suit her needs and to coordinate their schedules to fit her own, such as if she wants to go shopping or has an early-morning meeting.
Natalie Missakian is a writer living in Cheshire, Conn.