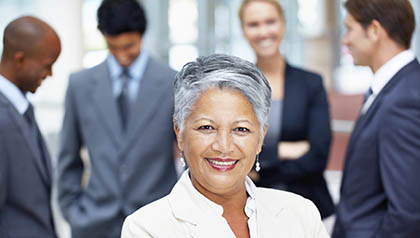 Are you over age 50 and currently unemployed? Do you want your next job to be about more than just a paycheck? The University of Connecticut Nonprofit Leadership Program is offering its seventh Encore!Hartford program beginning in March, 2016. Encore!Hartford is an intensive four-month workforce development program that assists unemployed Connecticut corporate professionals age 50 or older to transition their skills and experience into managerial and professional positions in the nonprofit sector.

The program has an impressive track record, with 91% of participants finding employment (70% full-time), and 73% of those employed landing in the nonprofit sector.

  Finding a job in today's economy is challenging, especially for those over age 50. We want to help experienced workers find more than just a job, but a new career that allows them to fulfill their personal goals and aspirations, and use their experience and background to make a difference in the lives of others." — Nora Duncan, AARP Connecticut state director

While the unemployment rate for older workers is less than their younger counterparts, those over age 50 who find themselves unemployed tend to be out of work for longer periods of time – many of them for more than a year. Facing age discrimination and other challenges, many of these experienced workers are also seeking to make a career change that allows them to find more purpose in their work or pursue a personal passion.


https://youtu.be/ZkRz62_iKJw?list=PLAqQ6uA6uEuHfyBwanlnciiX3G8OxdRxU[/youtube]

Encore!Hartford is designed and implemented by the University of Connecticut Nonprofit Leadership Program in strong partnership with AARP Connecticut, Leadership Greater Hartford, Capital Workforce Partners, American Job Center, CT Association of Nonprofits, United Way of Central and Northeastern Connecticut, and Jewish Family Services.

The program runs from March 3, 2016 – June 17, 2016 and offers:

Deep Immersion in the Nonprofit Sector: All components of the program are conducted in a diverse selection of CT nonprofit organizations.
Education: Sixty-four hours of managerial and professional skill-set transition education. Education component takes place at a number of Hartford-area nonprofits.
Resume Restructuring and Networking: Crafting of resumes that reflect the individual's transitional skills and experience applicable to the nonprofit sector. Development of networking strategies for the nonprofit sector and opportunities to meet with sector leaders key in an individual's job search.
Encore Fellowship: The cornerstone of Encore!Hartford is the two-month, 30-hour per week fellowship with a CT nonprofit organization providing real world experience and networking opportunities. Fairfield County placements available.

Applications are now being accepted through Jan. 29, 2016. Acceptance decisions will be made beginning in early February 2016. The full program fee is $2,950.

Find more program and application information here or contact Linda Friedman, Program Director, UConn Nonprofit Leadership Program at linda.friedman@uconn.edu or call 860-570-9282.