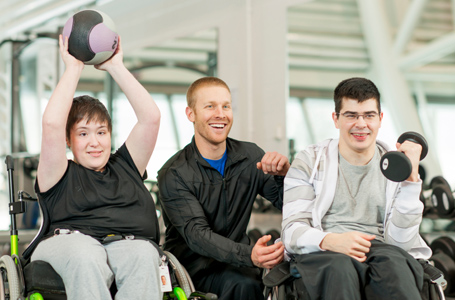 The following is a Guest Blog by Wes Norris, Fitness Program Manager at Chapter 126 Sports & Fitness in Bristol, CT --

There is no getting around the fact that we all must get older. But there is an option available that can prevent and even reverse many of the symptoms and side effects of the aging process. Adhering to this prescription can help lower the risk of Osteoporosis, Diabetes, Heart Disease, Alzheimer's, colon cancer and stroke. It can also help increase energy, improve sleep, mood and self-confidence, and enhance mobility, flexibility and balance. And perhaps best of all, the prescription can't be denied by Medicare. It's called: Exercise.

You've heard it before: you know you should be exercising, but…….(insert excuse here). Exercise does not have to be intimidating, uncomfortable or confusing. It does not have to take place at an expensive gym among people with giant muscles, confusing high-tech machines or staff that only cares about your membership.

And forget reading magazines or searching the internet trying to make heads or tails out of what you are supposed to do. Start out with a walk. Go for 20-30 minutes 2-3 days a week. Go more frequently and walk more briskly as you are able to. Get outside and do some gardening or weeding. Stand up and sit back down from your couch or chair 5-10 times in a row during a TV commercial. Play hide and seek with your grandkids. Park your car further away at the store and carry some of your bags instead of using the cart to bring them to your car.

If you are considering joining a gym, be sure to do your research. Many gyms are attractive with their low monthly price, but many of these gyms are just buildings with lots of equipment. Look for a facility with staff that have degrees in fitness and exercise, not just certifications. Interview the trainers and make sure they have experience working with the senior population or those with special needs. Find out if the gym offers free orientations to the equipment so you don't risk injuring yourself. Make sure that the atmosphere is one where you will enjoy going to the gym. Look for classes that interest you and a member base with participants similar to you. It will make the experience more enjoyable.

Chapter 126 Sports & Fitness, opening in Bristol in October 2014, is a great example of such a facility. Designed specifically for individuals with disabilities and the senior population, Chapter 126 has fully accessible equipment, a friendly, experienced staff, fun group exercise classes and provides a great social atmosphere. AARP members can receive a 20% discount on all program fees, including membership to the facility, fitness classes, sports leagues, and health and wellness workshops/seminars. Just show your membership card at the front desk at time of purchase. You can learn more about Chapter 126 here.

Small changes to your everyday activities can make a large improvement in your health. Speak with your physician before starting any exercise program.

- Wes Norris, CSCS

For information about other local discounts available to AARP members in Connecticut, please visit us here.