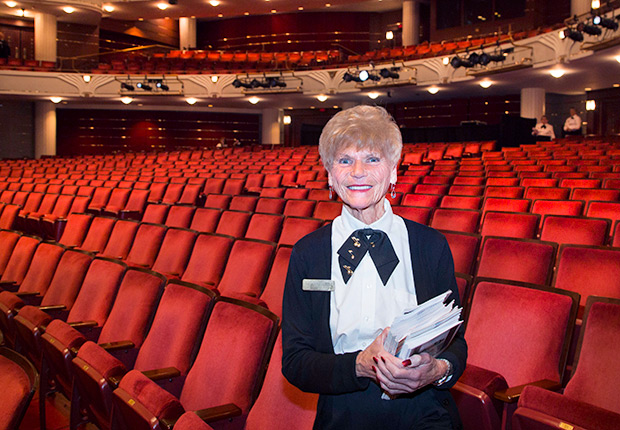 By Susannah Nesmith

For Sonia Bittner, an 81-year-old retired math teacher who volunteers as an usher at West Palm Beach's Kravis Center for the Performing Arts, volunteering to usher at the AARP national member event in May was a natural choice.

"We just like doing things like that," the Boynton Beach resident said. Her husband, sister and brother-in-law also regularly attend the AARP national events and volunteer as greeters and ushers at the shows. "I've got four or five T-shirts from the different events where we volunteered," she said.

The Life@50+ Event and Expo, to be held at the Miami Beach Convention Center May 14-16, is expected to draw more than 10,000 AARP members for workshops, speakers and concerts.

Many of those people will need someone to help guide them. AARP is looking for volunteers to serve as greeters, ushers at the concerts and guides who are posted in the convention center hallways to help attendees find their way. Volunteers work in shifts. The rest of the time they're free to attend the presentations.

One of this year's highlights will be a speech by Robin Roberts, co-anchor of ABC's Good Morning America, which has won four Emmy Awards for Outstanding Morning Program under her leadership.

Also in the lineup is actor, author, economist and pop-culture icon Ben Stein, who played the boring teacher in Ferris Bueller's Day Off, was a speechwriter for presidents Richard Nixon and Gerald Ford and recently wrote a series of humorous self-help books, How to Ruin Your Life.


Plenty of things to do
In addition to the keynote speeches, the event features sessions on health and wellness, work and money, technology and innovation, and travel and lifestyle, as well as arts and culture. Plus, the ever-popular "Movies for Grownups."

Suzanna Marcom, 70, worked two shifts at the event in Orlando five years ago, giving her plenty of time to attend the presentations.
"They want you to be able to still go to the presentations and hear the speakers," she explained. "They try not to load people up too much. They rotate the volunteers."

Retired from a career in technology, she's now president of the AARP Winter Park chapter. She and a group of friends are planning to rent a 10-person van to drive from Winter Park to Miami for this year's event.

One of those friends, Marie Hernandez, 70, got her first taste of AARP programs when she attended the Orlando event in 2010 and volunteered.

"The way I was introduced to AARP was the Orlando event," she said. "I wanted to be there and to see what I could do to help."

Now she's vice president of the Winter Park chapter and active in all kinds of AARP efforts. She's looking forward to the Miami event and plans to volunteer again. "They have great concerts and speakers," the retired school counselor said. "I'm excited to hear Robin Roberts, and they have awesome music."

AARP also sponsors Community Day of Service volunteer opportunities throughout the event.

At previous Expos, Karen Roberts, 66, of Yakima, Wash., has assembled flash cards for elementary schools in San Diego and sorted Mardi Gras beads to be recycled in New Orleans. She and several friends make a point of going to the events together and volunteering together.
"We see old friends and make new friends," she said. "It's one of the things I really enjoy—the people that go, and especially the people who volunteer."

For more information on the event, go to aarp.cvent.com/MiamiLife50. Event organizers are looking for a few hundred volunteers. You can sign up on the events page. AARP needs volunteers beginning May 13, the day before the event starts.

Event volunteers should be prepared to stand or walk for a few hours at a time, though they don't all have to be like Sonia Bittner, who runs five miles a day and participates in the Susan G. Komen Race for the Cure every year.

"Volunteering is easy," she said.

Susannah Nesmith is a freelance writer living in Miami.