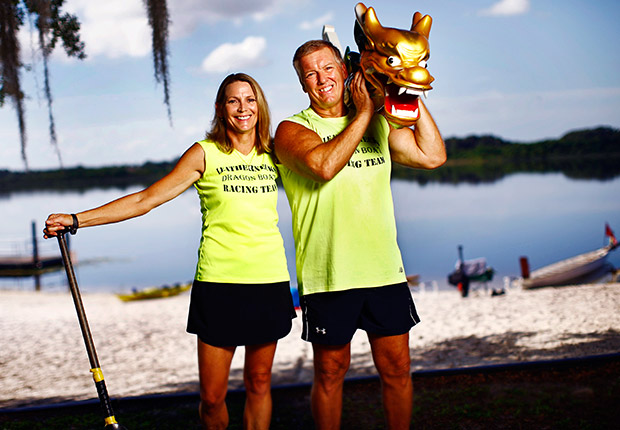 By Susannah Nesmith

Terry and Cynthia Dove always expected to retire in Southern California, where they had lived for 30 years before moving home to Illinois late in their careers. Both of their children and their four grandchildren are still in California.

Then Florida beckoned.

"We did our pros and cons list," said Terry, 65, a retired police chief. "The warm weather is obviously a big draw and the tax situation was beneficial."

What drew them to The Villages, a central Florida retirement community, were the many activities. They wanted to be able to swim and play softball. Now, two years after moving there, they are on a competitive dragon boat racing team.

The Doves' story of retiring to Florida is not uncommon. But as North Carolina, Texas and other states mount aggressive campaigns to lure retirees, some business leaders worry that fewer couples like the Doves will move to the Sunshine State.

Ken Boutwell, cochair of Choose Tallahassee, a business and community partnership promoting Florida's capital to retirees, said he thinks the state should mount a marketing campaign similar to the money spent on tourism: "As these other states and cities become more aggressive in their efforts, Florida needs to be out there promoting itself."

"There was a time when we attracted roughly half of all relocating retirees," said David Bruns, communications director for AARP Florida. "Now we've got a lot of competition. We're not nearly as dominant."

Spending taxpayer funds on a campaign for retirees—similar to the $74 million spent this year on tourism—would face opposition. Some environmentalists worry that with 19.5 million people, according to the Census Bureau's 2013 estimate, Florida has more residents than the land can support.

"I personally don't think it's the wisest choice," said Debbie Matthews, chair of the Sierra Club Florida executive committee. "We are very concerned about growth management, especially some of the locations of proposed development," she said.

Boosting the tax base
Many analysts agree that retirees contribute more to the state's economy and tax base than they receive in state benefits, but there are concerns. A report released in February by the LeRoy Collins Institute, a nonpartisan policy organization, noted that areas with high concentrations of retirees also had large numbers of workers with low-skill jobs in food service and entertainment.

Florida TaxWatch, a nonpartisan watchdog group, issued a report in January comparing the economic benefits of adding manufacturing jobs, logistics jobs or retirees. Manufacturing came out on top. But Jerry Parrish, TaxWatch's chief economist, said the key is to attract the right kind of retiree to the right kind of community.

"It can make sense for some communities to advertise for retirees," he said. "It depends on the diversity of their local economy." Parrish said retirees with business experience who can mentor entrepreneurs would be especially valuable.

Another concern is Medicaid. Retirees who exhaust their savings and need long-term care often go on Medicaid, adding to an already overburdened federal-state system.

But Richard Johnson, director of the Program on Retirement Policy at the Urban Institute, a nonpartisan think tank, said Medicaid costs are probably outweighed by the money retirees spend in the state.

"When you attract retirees, some of them later incur costs and it's going to be primarily Medicaid costs, though some people return to their place of origin as they get older," he said. "The people who move across state lines tend to be wealthier. I would say it's probably a net gain for the states."

And in South Florida, Ben Schachter, president of Signature Real Estate Companies, which sells condos in Century Village and Kings Point, said he's still seeing plenty of demand, but worries that some retirees are choosing to move to Central and South America instead.

"I'm the biggest proponent you'll ever find of the state of Florida working to attract more buyers to the state to bring their dollars to our economy," he said.

Susannah Nesmith is a writer living in Miami.