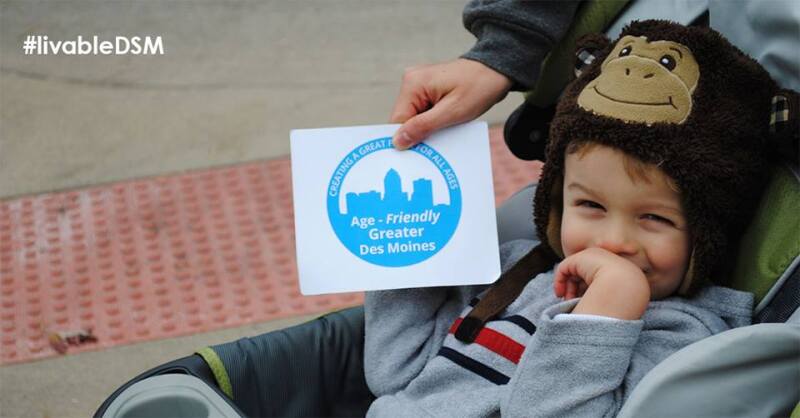 Last weekend, I asked my friend Liz if she and her two boys would take the "Can you walk to get your groceries?" challenge with me. I had gotten the idea from a CityLab blog, and decided it would be a fun thing to do with my friend. We thought we'd be evaluating the built environment near her home, but we ended up testing much more than the sidewalks and curb cuts that day.

Liz lives in West Des Moines with her husband, as well as her two young sons, a three-year old and an infant. Her home is in a residential area on the corner of a quiet street, a pretty typical Iowa suburb, and not exactly in walking distance from grocery stores. It was a brisk fall morning and perfect walking weather.

Before we went out on our journey, we assessed the locations of the two nearest grocery stores, and routes that would lead to both. The first was a Hy-Vee just under one mile away, but it required crossing over the interstate, which is not exactly safe for a stroller. The second was a Hy-Vee 1.6 miles away, more than a half hour walk through mostly residential neighborhoods. We opted for the second choice. I then watched my friend pack a bag for nearly every kid-related scenario, and stuff it into the bottom of a stroller.

I should point out at this point that I do not have my own children, but I do enjoy shopping with my friends who do because I have an automatic compartment for my personal belongings. In this instance, the storage area underneath the stroller seat was fairly full, but I placed my purse on top of the diaper bag anyway. It seemed secure enough. After we loaded up the kids, we were on our way!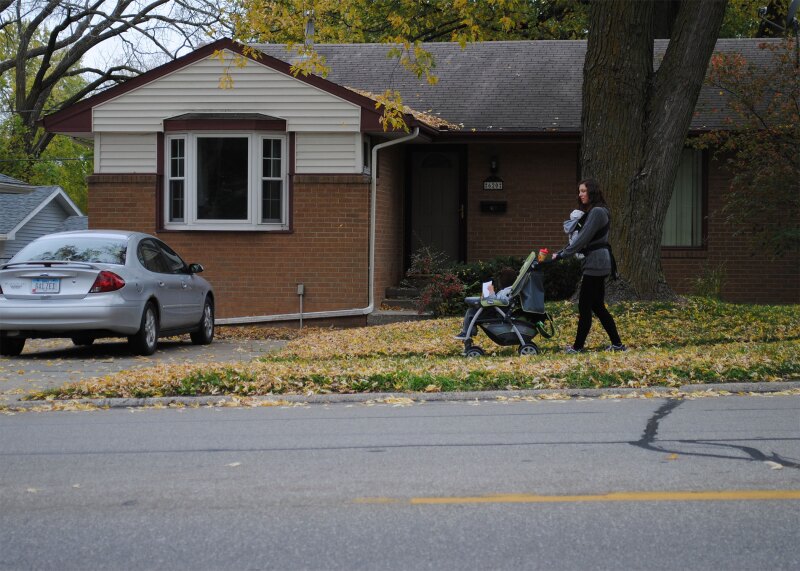 10:37am First intersection. So far the sidewalk is level and easy to navigate with a stroller. The intersection has a pedestrian traffic signal, but no obvious crosswalk. After a brief stop for the light, we are given the walk sign, and walk across the street.

10:53am Second intersection. So far all curbs are equipped with ramps, and traffic is separated with a strip of grass and mature trees. Cars are moving at what seems to be a safe speed.

11:03am Third intersection. Sidewalks are old and mostly level, but in most places the path is so narrow I must walk behind the group. We have been walking now for a half an hour, and a drive along the same route may have taken ten minutes. While the walk thus far as been pleasant and safe for pedestrians, this was certainly not an ideal way to obtain weekly groceries.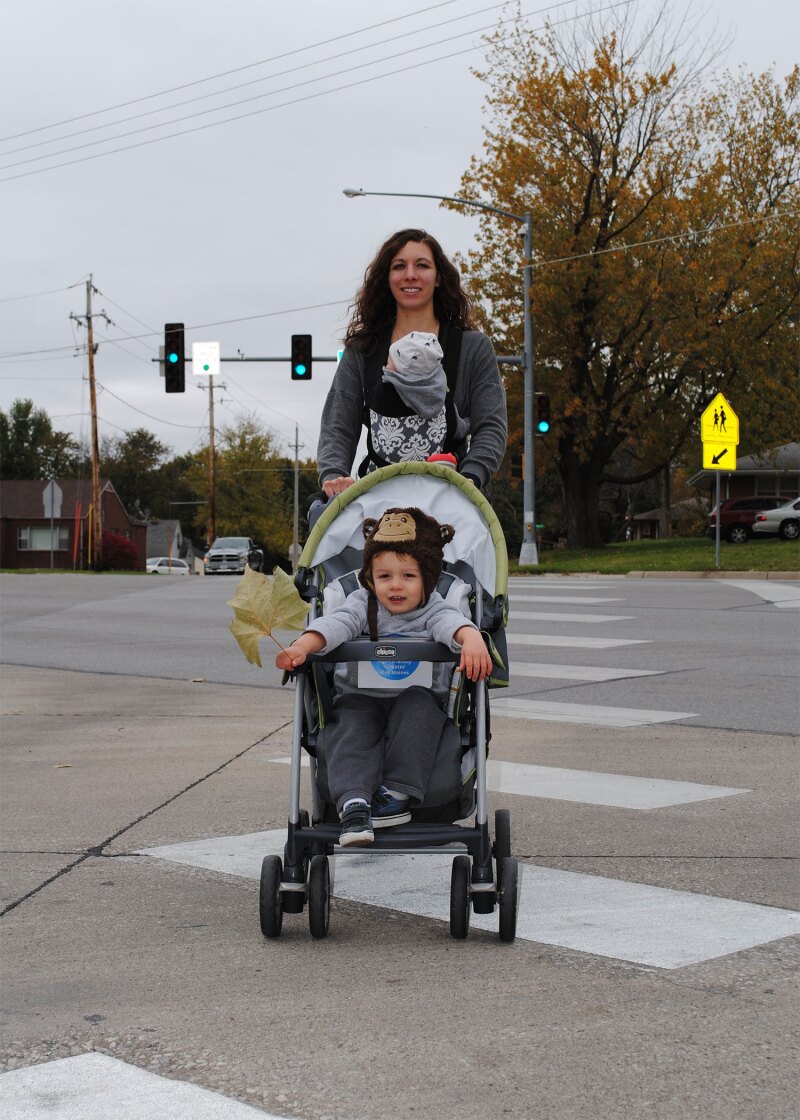 11:10am Fourth intersection. The road we must cross is four lanes and congested, but the countdown on the crosswalk is just long enough for us to cross. Up to this point, I had tracked our progress using the clock on my cell phone, but as we can see Hy-Vee on the horizon, I don't feel like holding it any longer. I bend down to grab my purse out of the stroller but it's not there. I move the diaper bag to search on either side—it's clearly gone.

"This is bad," I hear Liz say, she is looking over my shoulder.

Luckily I was already wearing running shoes, and as soon as the walking man lit up, I broke into a run across the intersection.

11:15am First interaction. I've begun to retrace my steps, and speak to a couple walking down the street. Unfortunately, they haven't seen any small black shoulder bags on the sidewalk. I give them my phone number in case they see anything.

11:22am Second interaction. I come across a man cutting his grass and wave my arms wildly until he shuts off the mower. He is happy to help, but has not seen anything.

11:28am Third interaction. Liz's neighbors across the street are holding a garage sale and have been out in front of their house all morning. No information there, either.

I had run all the way back to Liz's house, but my purse was nowhere to be found. At this point I felt like I should be panicking, but minus my heart pounding from the run, was fairly calm. I put a call into the West Des Moines Police Department and reported a missing item.

11:34am Fourth interaction. I meet a police officer near Liz's house. He recommends I call my banks to cancel my cards, but I am still in denial about my purse's "missing" status. He agrees to drive me along the route to the grocery store so we could continue searching.

11:39am Fifth interaction. There is no sign of my purse and my mind is starting to spin. I am on hold with the second bank out of three I needed to call. As we slowly drive along, I take a mental inventory of the items in my purse. I discover that I carry way too much crap around. I could replace my IDs, get new credit cards, and use my spare car key, but the pair of earrings I had stored in my coin purse were from my grandma, and they were irreplaceable.

11:42am Sixth interaction. My ears perk up as a call came through the police scanner. I think I hear something about a purse, but I might be delirious. The officer picks up the call to confirm. Then he stops the car and turns around.

"We've found your purse," he says.

At this point, I'm not sure who was in a bigger state of disbelief, the police officer or me. Apparently, a man picked up my discarded purse and had it at his home, which was very nearby. My heart lifts.

11:52am Seventh interaction. After what seemed like an eternity of twists and turns through a residential neighborhood, we pull up to the man's home and I excitedly claw at the inside of the police car door. Once the officer lets me out, I run up to the house to meet the man who had found my purse. He had seen it lying on the sidewalk when he drove through an intersection, which happened to be very near the beginning of our walk. He wouldn't take the cash I had in my wallet when I offered it to him, but reluctantly accepted a sweaty hug.

On my way back to meet Liz, I talked with the police officer about the West Des Moines community.

"So you just drive around and help people all day?" I asked.

He laughed at me and shook his head. "I didn't think you'd see your purse again," he said.

I thought about my relatively calm state of mind that morning, there was never a point when I truly believed I wouldn't see my purse again. Something about the characteristics of Liz's neighborhood, the safety or the collective altruism among neighbors, had prevented me from a total freak out when my purse had come up missing. And there it was, sitting in my lap; its contents untouched and entirely accounted for.

It's not every day I get to ride in the back of a police car. I could look out the window and appreciate different aspects of this neighborhood, such as the consistency of sidewalks, the Halloween yard decorations, and the safe place it provides for pedestrians. Soon I was dropped off at Liz's house, and by this point we were all really ready for lunch. Could we have continued our walk to the grocery store? Yes. But it was approaching naptime, so this time we drove.

At lunch, we looked at the trip planner feature on DART's website for a bus line we could have used, but our inquiry produced no results. This was due to either the time of day or that the location of the nearest bus stop was half a mile away from my origin or destination. We also looked up her home's walkscore, and it ranked a 31, indicating a heavy day-to-day reliance on cars.

At this point we were able to answer our question with confidence. Can Liz walk to get her groceries? Yes, but certainly not on a regular basis.

Liz's neighborhood is well separated from her walking-accessible daily needs, a typical suburb that caters to cars. There's an emphasis on walking distances when evaluating communities for livability, and plenty of places in Des Moines are considered more walkable. But after my experience last weekend, I can alter my perspective to appreciate features of Liz's neighborhood that allow pedestrians to move around safely. In her neighborhood, walking is easy and encouraged through infrastructure. There, walking is more about the journey than the destination.

–Claire Richmond is a graduate student pursuing a dual degree in Urban & Regional Planning at Iowa's School of Urban Planning and Community & Behavioral Health at the College of Public Health. Her studies are focused on the built environment's impacts on health, specifically those of aging adults. She currently interns at the AARP Iowa office and assists with the organization's social marketing efforts surrounding the Greater Des Moines Age-Friendly City initiative.