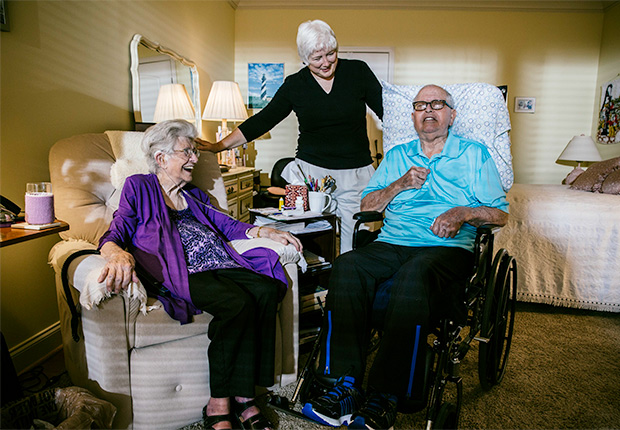 By Ann Hardie

The three-story red brick house in Marietta is a study in the demands and rewards of caregiving. Vickie Beaham and her partner, Liz Strickland, care for Beaham's 100-year-old grandmother, who is mentally sharp but has congestive heart failure.

For nine years, the couple has also cared for Strickland's 84-year-old mother, who has mild dementia, and her 87-year-old father, who has advanced Alzheimer's. Having them at home costs about $10,000 a month.

Strickland and Beaham, both 56, have the resources to carefor their relatives, at least for now, and the managerial skills to keep up with the doctor appointments, medicine schedules and whatever curve balls come their way. What really keeps this arrangement from going off the rails is the couple's passion for providing the care.

"Not only do I feel the need to do this, I have a great desire to do this, and so does Vickie," said Strickland, who quit her job as a partner at Ernst & Young to take on the primary caregiving responsibilities. Beaham, who works in international sales for IBM, does more than her fair share when she is home.

$14 billion value
Strickland and Beaham are among the 1.3 million Georgians who put in more than 1.2 billion hours a year caring for their older relatives and friends, according to "Valuing the Invaluable," an AARP report. The estimated value of this unpaid caregiving is $14 billion. (See the full AARP Public Policy Institute report at aarp.org/invaluable.)

"Caregiving has gotten harder and more complicated as families have more and more demands on their time," said Hillary Thomas, AARP Georgia program specialist for community outreach. "Unpaid family members are the backbone of Georgia's long-term care system. That's why we're fighting for family caregivers at the state capitol—for more support, training and flexibility at work."

November is National Family Caregivers Month. This past year, AARP has asked caregivers to share their stories on the site I Heart Caregivers, at aarp.org/iheartcaregivers.

For help, many caregivers in Georgia turn to local Area Agencies on Aging, which offer services and programs including adult day care, respite and other assistance. To identify the agency that provides services in your county, go to georgiaservicesforseniors.org or call 866-555-4464 toll-free.

While these services are a godsend for many families, people in certain areas of the state face long waiting lists. Even so, Thomas tells caregivers to put their name on the list in case spots open up.

The AARP Caregiving Resource Center aarp.org/caregiving has information and tools to help caregivers on a wide variety of topics, such as getting organized and dealing with financial and legal matters. One of the most important areas covered on the site, Thomas said, is aimed at getting caregivers to take care of themselves.

"A lot of caregivers are so bogged down with the business of caregiving that they don't take time for themselves. They need to have a team of friends, relatives and neighbors ready so they can read a book, run personal errands [or] sit on a park bench," Thomas said. "Taking a break makes you a better caregiver."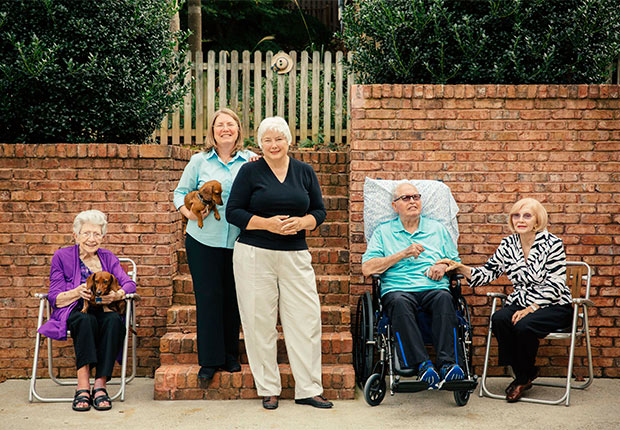 Strickland agrees, but she acknowledges that she doesn't do a very good job of finding time for herself.

"The huge nut that caregivers have to crack is giving themselves permission to not be isolated," she said. Nevertheless, Strickland calls herself fortunate.

"I am lucky in that my loved ones are very grateful and thank me at least twice a day," she said. "My father often looks at me and says, 'Thank you for going on this journey with me.' "

For other state resources, go to:



AARP Georgia will hold a caregiving workshop at noon on Monday, Nov. 16, in the state office, 999 Peachtree St. NE, Suite 1110. To register, call 877-926-8300 toll-free.

Ann Hardie is a writer living in Atlanta.