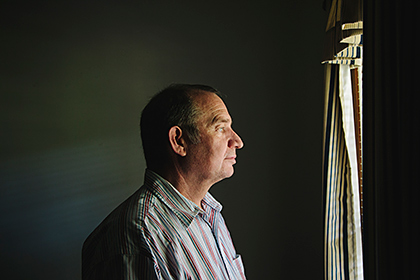 By Ann Hardie • Richard Quigley, 60, retired from his job with the city of Carrollton early last year to start his own landscaping business. He quickly found that he couldn't afford health insurance.

Both he and his wife, Naomi, have chronic health problems, and the premiums they were quoted were prohibitively expensive—when they were offered at all.
A broker helped Quigley find one company that offered coverage. But with the $500 monthly premium and $20,000 deductible, "we may as well have no insurance at all," Quigley said. "I'm definitely counting the days till October."
That's when individuals will be able to enroll in insurance plans offered through exchanges—also called marketplaces—created under the Affordable Care Act (ACA).
Through the marketplace, consumers "can make apples-to-apples comparisons" among the plans, said Renard L. Murray, regional administrator for the federal Centers for Medicare & Medicaid Services in Atlanta, the office responsible for the marketplaces in Georgia and seven other Southern states.
Possible lower premiums
"Most people will get a break in cost," Murray said.
To help people like the Quigleys navigate the marketplace, AARP Georgia staff and trained volunteers are attending health fairs and other community events to help get the word out about the exchange and how to enroll. AARP also will host a tele-town hall Oct. 10 and will send emails about the exchange to about 150,000 Georgians.
In addition, consumers can call 800-318-2596, a 24-hour hotline, or meet with a government-trained "navigator," who can explain the health plans offered.
Information about the plans will be available by Oct. 1 at the HealthCare.gov website. The Spanish-language website is CuidadoDeSalud.gov.
The plans offered through the exchange must cover basic health care such as doctor visits, hospital stays and prescription drugs.
They can't charge a copayment for preventive care such as mammograms, Pap smears and blood pressure or cancer screenings.
The ACA prohibits insurers from denying coverage or charging higher premiums because of chronic or preexisting medical conditions, a person's gender or occupation. It also eliminates most annual and lifetime coverage caps. Adult children are able to stay on their parents' insurance until age 26.
Older people who buy private insurance before they are eligible for Medicare at 65 can't be charged more than three times the rate of younger customers' premiums. For those covered by Medicare, the ACA gradually closes the "doughnut hole" in Medicare Part D prescription drug coverage.
Coverage begins Jan. 1
About 1.9 million Georgians lack insurance; the AARP Public Policy Institute estimates 313,000 of them are between 50 and 64.
Consumers who enroll by Dec. 15 will have coverage as of Jan. 1. The initial open enrollment period closes March 31.
Low- and middle-income people may qualify for a subsidy that can be used to lower the monthly premium or can be taken as a tax credit on their federal income tax returns.
For instance, according to the Kaiser Family Foundation, a nonprofit that studies health care policy, those who qualify for the subsidy or tax credit might range from single people with no dependents who earn up to about $46,000 to a family of four with an income up to about $94,000.
Meanwhile, advocates are continuing their push to persuade state officials to expand Medicaid, the federal-state health insurance program for the poor. With an expansion, more than 500,000 additional Georgians would have coverage.
Gov. Nathan Deal (R) has said the state can't afford the expansion, even though the federal government pays the full cost in the first three years and then phases down to 90 percent of the cost by 2020.
To learn more about the ACA, go to healthlawanswers.org.
Ann Hardie is a writer living in Atlanta