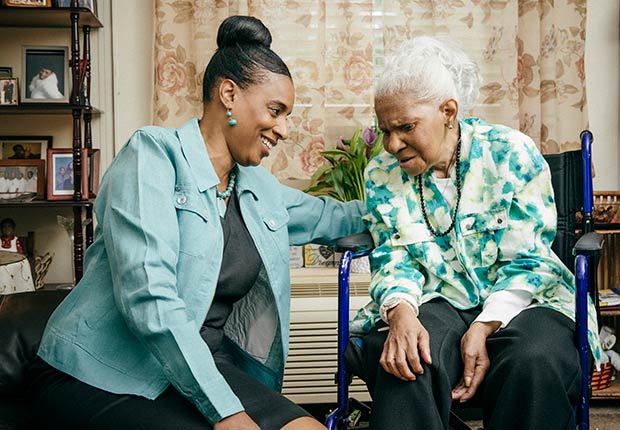 By Ann Hardie

Nancy Martin, an 82-year-old Decatur resident who has had multiple strokes, is grateful for many things. Among them are the nursing aide who comes in the morning to help her get dressed and the van that takes her to an adult day care center, where she is president of the Red Hat Society, a social group.

Martin's eight children are grateful that their mother, who now uses a wheelchair, can maintain some independence so they can continue to work.

The entire family is grateful for Medicaid, the federal-state health care program celebrating its 50th anniversary in July. Medicaid pays most of the cost for the aide and other services Martin receives.

"My mother would be in a different situation, my entire family would be in a different situation, without Medicaid," said Martin's daughter Phyllis Martin-Hopson, 54, a dialysis technician. "Because of Medicaid, my mom is as alert and happy as ever."

Medicaid is providing a lifeline to 1.8 million Georgians—the state's poorest and most vulnerable citizens—and has evolved over time to fill gaps in the health care system.

"Medicaid serves as an effective resource for one out of every five Georgians who might otherwise be without access to health coverage," said Greg Tanner, state director of AARP Georgia.

AARP has long advocated for adequate funding to provide services for the aging in the state.

Georgia relies on federal funding for about two-thirds of its $13 billion Medicaid budget, which covers health care for people who are blind, disabled or elderly. Services for people in those categories account for about 54 percent of the budget, making the program the main source of long-term care for the state's older residents.

Almost three-quarters of residents of the state's 350 skilled nursing facilities rely on Medicaid.

"Without this important safety net, we would have a great number of this very vulnerable population without any place to go," said Jon Howell, president and CEO of the Georgia Health Care Association, representing many of the state's nursing homes and other long-term care facilities.

Demand outpaces dollars
Long-term care services have shifted as the state has allocated more Medicaid dollars to home- and community-based services, such as transportation, bathing and adult day care, designed to keep Georgians living at home. These services are far less costly than skilled nursing care.

Given the state's rapidly aging population—the number of Georgians 60 and older is expected to increase by 66 percent in the next 15 years—the demand for community-based services has consistently outpaced the dollars to pay for them.

About 26,000 people are receiving home- and community-based services, with a waiting list of 1,400, according to the state agency overseeing Medicaid.

"Medicaid is a driver of the movement toward noninstitutional care for long-term care services," said Tim Sweeney, deputy director of policy at the Georgia Budget & Policy Institute, a nonpartisan organization. "Certainly a lot of advocates think the change isn't happening fast enough, but that doesn't mean it isn't going in that direction."

One issue that has not gotten any traction in the General Assembly is expanding Medicaid eligibility to cover thousands of uninsured people who make too much to qualify for the program but may not be able to afford to purchase private health insurance.

Close to 300,000 Georgians would be covered if the state were to expand Medicaid under provisions of the Affordable Care Act, according to a recent study by the Kaiser Family Foundation. Of those, about half would be between 45 and 64, according to an analysis by Families USA, an advocacy group.

Federal funds would pay the full cost of covering those added by the expansion, declining to 90 percent by 2020.

Ann Hardie is a writer living in Atlanta.