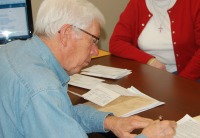 AARP Foundation Tax-Aide is the nation's largest volunteer-run tax preparation and assistance service. And they need your help!

Thousands of low- to moderate- income Iowans, especially those 60 and older, need help preparing their taxes. Volunteer for AARP Foundation Tax-Aide and make sure they get all the deductions and credits they deserve. You'll be helping people in your own community with a much-needed service that's free, individualized and has no strings attached.

Not good with numbers? No problem! There's a volunteer role for everyone, including greeters, communications and technology coordinators, administrative and tax volunteers and bilingual speakers.

Volunteers will be trained by AARP and the Internal Revenue Service in November or December and will begin working at sites close to their home around Feb. 1.

Join the AARP Foundation Tax-Aide volunteer team and experience the joy of helping those in need!