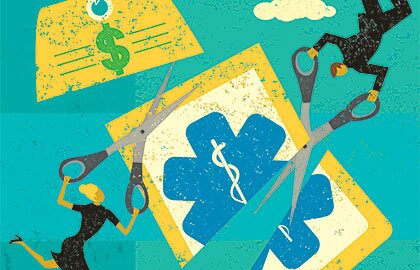 By Lisa Bertagnoli • River Forest resident Anne Clark and her family have felt the pinch of health insurance costs at work and at home.
Premiums have steadily increased at the small advertising agency in Chicago where Clark's husband works. Partly because of that, the 60-employee agency now hires contract workers rather than full-time employees. Their 27-year-old son doesn't have a full-time job, so he pays the full cost of his insurance premiums.
Obtaining better and less expensive health insurance is on the horizon as provisions of the federal Affordable Care Act take effect next year. Under the law, an insurance exchange in each state will act as a clearinghouse to purchase health insurance coverage, similar to the way online travel sites compare travel costs.
Clark, 60, a retired substitute teacher, said she believes that reasonably priced, accessible health insurance will help budding entrepreneurs start their own businesses and allow unhappy workers to change jobs more easily.
"It's crazy how we have not made health care accessible to our citizens," she said. "Things happen—accidents, illness—and if you don't have insurance, you're dead in the water."
That's why Clark, as an AARP volunteer advocate, travels regularly to Springfield to encourage legislators to support a state-based health insurance exchange, an approach endorsed by Gov. Pat Quinn (D).
Will legislature act?
An exchange operated jointly by the state and federal governments will launch Jan. 1, 2014. Illinois lawmakers are considering a bill to create a state-run exchange beginning in 2015. If the legislature does not approve that bill by May 31—the last day of the legislative session—the jointly run program could continue or Illinois could move to a federal-only exchange.
No matter which entity operates the exchange, it will allow individuals, small businesses and their employees to comparison-shop for a health insurance plan.
Currently, plans offered to small employers and individuals are more expensive and more restrictive than those available to larger employers, where the risk is spread over a bigger pool because of the larger workforce. In the exchange, small businesses and individuals form a large pool, opening the possibility of more—and more affordable—choices for insurance policies.
The exchange will allow consumers to compare insurance plans (including Medicaid) and rates; offer access to information via a website and toll-free number; and provide coverage, by 2020, to the approximately 1.7 million Illinois residents who are currently uninsured.
While all those elements would be available under either the state-federal or the state-run exchange, the state version "will be more beneficial for consumers," said Jennifer Creasey, AARP Illinois associate state director for advocacy and outreach.
Consumer oversight
That's because a board that includes consumers and consumer advocates would oversee the state-based exchange, which is not the case with the federal-state partnership. Creasey said a governing board with consumer representation (and no insurance industry officials) would help keep the state-run exchange more focused on health insurance users, not health insurance providers.
"We want it to not just make money for the insurance industry," she said. "We want it to save money for consumers."
The insurance industry agrees that states are better off managing their own exchanges.
"They have the experience, infrastructure and local market knowledge to make sure exchanges meet the needs of the people in their state," said Robert Zirkelbach, spokesman for America's Health Insurance Plans, a trade group for the health insurance industry.
Lisa Bertagnoli is a writer living in Chicago
Photo by Getty Images