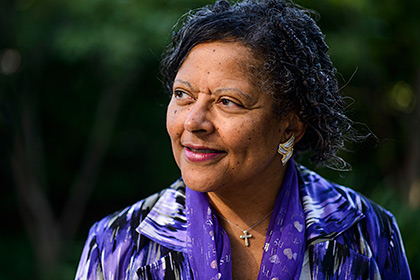 By Christopher J. Gearon
During the Great Depression, Flo Stottlemyer was often hungry as a child. Things were better as she grew up, but eight decades later, the 84-year-old Hagerstown widow sometimes doesn't have enough money to buy food.

Today there's a safety net that Stottlemyer and her family didn't have in the 1930s: Once a month she can visit a pantry in her apartment complex and pick out canned, boxed and fresh food at no cost.

The pantry at Francis Murphy Senior Apartments is stocked by the Maryland Food Bank, which relies on donations to provide fresh and nonperishable food for Marylanders who don't always have enough to eat.
The donated food is brought to Stottlemyer's housing complex every month; that's easier on the residents than arranging for transportation to visit a pantry at a church or other fixed location.


Keeping food banks stocked
To help make sure the shelves at pantries and food banks statewide don't run empty, AARP Maryland and other organizations are helping with a nine-day food drive in March called Harvest for the Hungry.

Two years ago, the AARP Foundation launched Drive to End Hunger to raise awareness about older people who don't always have enough to eat and to raise money to help provide food for them.

"We are encouraging folks statewide to get involved in any way they can," said Jennifer Holz, AARP Maryland's associate state director for outreach.

Options throughout the state to donate food or help collect it from March 1-9 include:

 Purchasing and donating nonperishable food items or a $10 pre-stuffed bag of groceries at 66 participating Safeway stores. The 2013 food drive collected 45,000 pounds of nonperishables for food banks and pantries.
 Volunteering to staff tables in Safeway stores in Montgomery and Prince George's counties to help alert shoppers to the food drive.
"It's an opportunity to give back and make a difference in somebody else's life," said Elois Wiggins, 62, of Silver Spring, who staffed a table at a Safeway store this year and plans to volunteer during the 2014 campaign.

"AARP volunteers certainly provide a large boost to the campaign," said Safeway spokesman Gregory Ten Eyck.

Volunteers will staff tables inside Safeway stores in three-hour shifts. They will greet shoppers, point out the sign highlighting the campaign and tell them that the $10 prepackaged Safeway grocery sack—full of items such as cans of tuna, jars of peanut butter, bags of rice, cans of vegetables and boxes of cereal and pasta—is a $13 value.

Volunteers, who will be given a red AARP T-shirt, can stand or sit during their shifts. They are not responsible for collecting or handling money.

Call 877-926-8300 toll-free to volunteer.

Clients of the food banks and pantries appreciate the donations.

"It's wonderful. It helps out," Stottlemyer said of the pantry at her housing complex, whose 125 residents receive 3,500 pounds of meat, fruits, vegetables and other food on the second Friday of each month.
"They don't have to decide between paying for medicines, food or rent," said Pam Schnebly, property manager of the complex, where residents live on an average of $900 a month.

Christopher J. Gearon is a writer living in Derwood, Md.