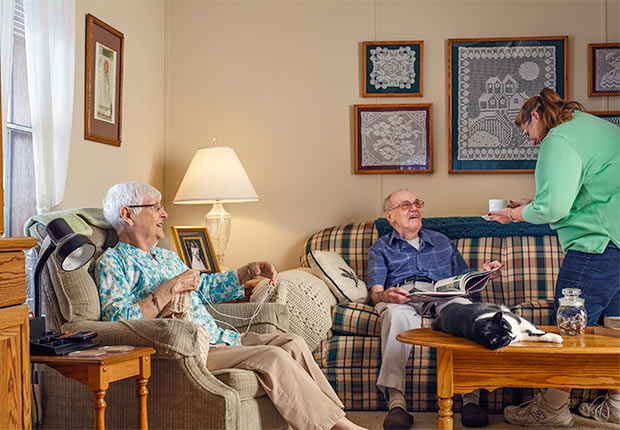 By Kelly Soderlund

When John and Mary Schnell spoke their wedding vows—"for richer or poorer, in sickness and in health"—in 1950, they had no idea how integral those statements would be to their lives.

Those were the days of dates to the movies and the drive-in for a cheeseburger and a Coke for John, then 21, and Mary, then 17. But after almost 65 years of marriage, the Schnells have become the poster couple for what it means to abide by your wedding vows.

John, now 86, suffers from Lewy body dementia, a progressive disease that's left him forgetful and affects his movement and posture. Mary, 82, has been his full-time caregiver for the past three years, dressing, bathing and feeding him.

John visits Addus Evergreen Club, an adult day services center in Springfield, where the couple now live, two days a week for five hours, giving Mary the opportunity to rest or take time for herself.

A woman from Help at Home Inc., a home care agency, comes to the Schnell house twice a week for two hours to help Mary and take the couple shopping and to doctor appointments, since neither of them drives.

"It can be overwhelming at times," Mary said. "No matter how tired you are, there's always something more that needs to be done. Some nights, he'll get his days and nights mixed up, and there are a lot
of times I'm making do on very little sleep.

"That's where this day care comes in handy, because when he goes there, I can lie down and take a nap and it gives me a break."
But the Schnells may lose some of that assistance if cuts ordered by Gov. Bruce Rauner (R) to community care services and tougher eligibility rules for participants remain intact.

Mary Schnell is among the more than 1.5 million Illinois residents who act as caregivers for their older relatives and friends, providing $18.5 billion in unpaid care annually, according to the AARP Public Policy Institute report "Valuing the Invaluable."

The Schnells couldn't afford John's adult day care or the home health care worker if it weren't for the assistance they receive through the Illinois Department on Aging's Community Care Program. It helps older people who might otherwise need nursing home care remain in their homes by providing in-home and community-based services.

40,000 could lose help
The Community Care Program's Adult Day Service provides caregivers with respite by offering daily care services in centers across the state. Participants can visit for a few hours a day to socialize with others and do recreational and therapeutic activities while having their health and medications monitored.

The Community Care Program's in-home services help caregivers with cleaning, planning and preparing meals, laundry, shopping and running errands. Aides also help with dressing, bathing, grooming and following special diets.

Roughly 80,000 people in Illinois use these resources monthly. But Rauner's proposed budget for the fiscal year ending June 30, 2016, would slash $140 million—nearly 20 percent—from the Community Care Program. Advocates say that would cut the number of people receiving such services by about half—possibly including the Schnells.

Rauner has also called for an income eligibility cap for Community Care Program clients. In addition, there would be a more stringent determination of need, which critics say would disqualify many people who need assistance.

These proposals could be modified if Rauner and the General Assembly reach an agreement on overall state spending.

"Family caregivers play a critical role in the social and economic fabric of our state—a role that can take a huge toll on the caregivers' physical, emotional and financial resources," said Rosanna Márquez, AARP Illinois president.

"It is shameful that the state budget battle has created a scenario that could make their jobs even more difficult by cutting the limited services they rely on for assistance," she said.

AARP is actively lobbying against these cuts.
Kelly Soderlund is a writer living in Bartlett, Ill.