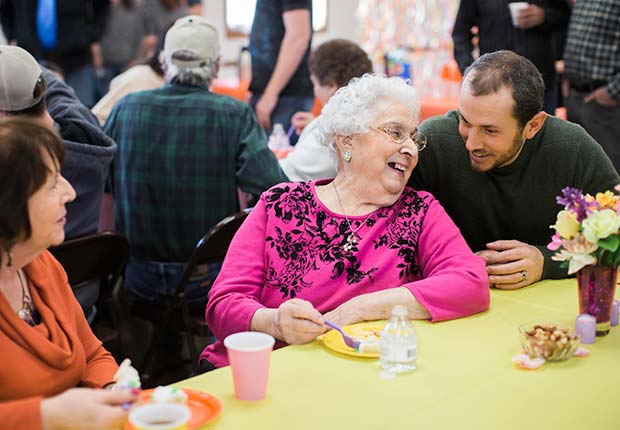 By Jackie Spinner

Illinois has two new laws that will help the most vulnerable older residents in the state: people at risk of wandering off and those living in nursing facilities.

A law that went into effect in January allows surveillance cameras to be installed in the rooms of long-term care facilities' residents, making Illinois only the fifth state in the country to offer seniors and disabled adults this added protection against neglect and abuse.

"This was a groundbreaking law," said Ryan Gruenenfelder, manager of advocacy and outreach for AARP Illinois.

For Gruenenfelder, the issue is personal. Last year, his 91-year-old grandmother, Rita Stoecker, was in a nursing facility he called "negligent." She complained that residents were not properly dressed, food messes were not cleaned promptly, and were quarantined in their rooms for more than a month when someone was ill.

"If I had been able to have a camera, we could have been monitoring that," he said. "We did figure this stuff out, and we got my grandmother out of the facility, but we weren't seeing what was going on."

Under the law, residents (and their roommates) must give consent before a camera is installed. A sign must be placed outside the door indicating that the room is being monitored. Also, residents are responsible for costs associated with installation and monitoring. Still, it's a big step, Gruenenfelder said. "Now nursing home residents will be safer, and family caregivers will have an easier time."

Illinois Attorney General Lisa Madigan (D) said the law will "give families peace of mind by allowing them to monitor their loved one's care when they cannot be present."

Although AARP supported it, the law is not intended to replace appropriate regulation and monitoring of institutions.

Similar to Amber Alert
Another law that went into effect Jan. 1 will make older residents safer via a "Silver Search" notification, similar to the Amber Alert system used to let the public know when a child has been abducted.

The search system is slightly different from the Amber Alert, which typically indicates a crime has taken place, said Craig Burge, the missing-persons coordinator for the Illinois State Police. But Silver Search uses the same process of notifying the public through broadcast media, road signs and social media when an older person goes missing, usually due to confusion resulting from dementia or Alzheimer's disease.

Silver Search "doesn't have anything to do with abduction or them running away from home," said John M. Smith, executive director of the Egyptian Area Agency on Aging in southern Illinois. "It has to do with them not knowing what they are doing.

"They could walk for a mile," he said. "Usually when they do wander, they're not dressed appropriately."

More than 5 million Americans are living with Alzheimer's, and as many as 16 million could have the disease in 2050, according to the Alzheimer's Association, one of the chief advocates of the Silver Search law. An estimated 210,000 people in the state have Alzheimer's.

Illinois has had a missing-person advisory system for the past six years. The new law calls for a task force that will focus specifically on adults with Alzheimer's or dementia, said Jennifer Belkov, vice president of public policy for the Greater Illinois Chapter of the Alzheimer's Association.

"The missing and endangered persons program wasn't working for our population," Belkov said. "Once the task force is set up, they will write the protocol" for how to respond when a person is missing.

Leslie Stanberry, executive director of the Decatur-Macon County Senior Center, said time is critical in finding older people, who often have health conditions that put them in danger.

A few months ago, a woman disappeared on the way home from the Decatur center. "Nobody knew she was missing until she ended up in another town, in the driveway of someone who called the police," Stanberry said, noting that if she hadn't been found quickly the incident could have ended tragically.

The Silver Search program shares information with law enforcement agencies and then with the public, to find them more quickly.

"This is a great thing for Illinois and for the senior network," Stanberry said.
Jackie Spinner is a writer living in Chicago.