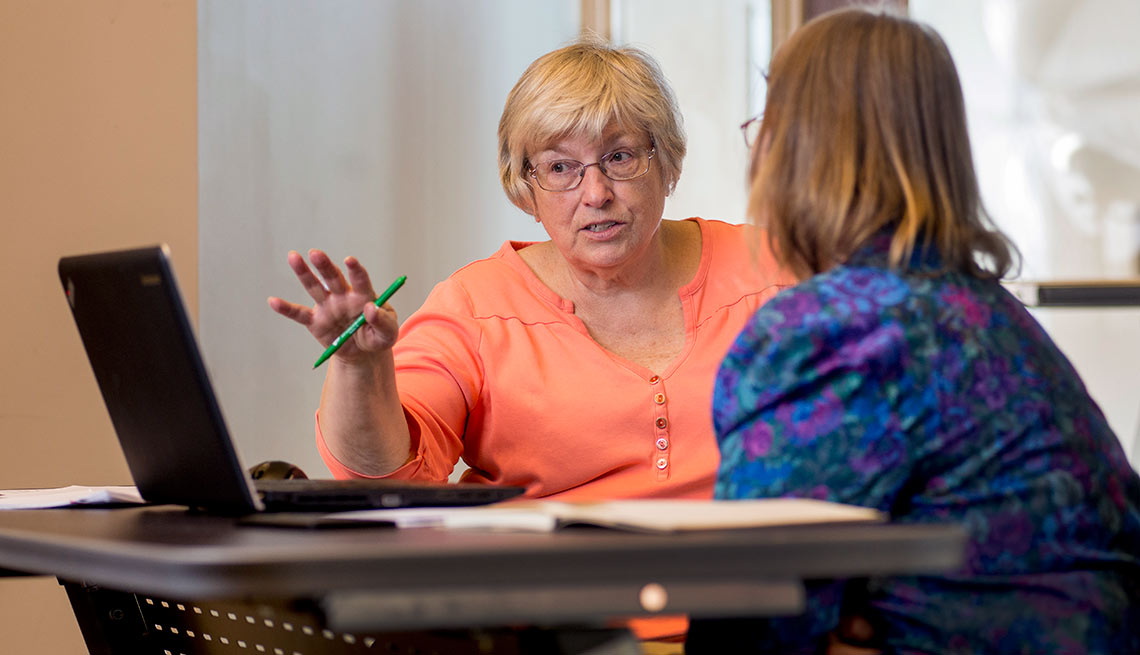 By Lisa Bertagnoli

For 28 years, Mary Anne Stewart, of Rock Island, has spent a big chunk of her spring doing tax returns. What could easily be a circle of hell for some people is satisfying for Stewart, a retired librarian with an MBA.

Her work, as a volunteer and district coordinator for the AARP Foundation Tax-Aide program in Illinois, "always reminds me that the world is made up of all different types of people, with different problems," said Stewart, 67.

One client, a young mother preoccupied with small children, had to file returns for the previous five years before receiving a refund. In the process of preparing those returns, Stewart discovered that the woman had refunds due from other years, too.

"You see several thousand dollars coming your way, and you're in a job that pays $25,000 to $28,000 a year—that's a lot of money," Stewart said. "So many people don't realize that by not filing, they're losing money" because of child credits and other tax breaks.

Tax-Aide helps prepare tax returns for older people, low- and moderate-income individuals, and pretty much anyone of any age who might have difficulty with a 1040 form.

Since its inception in 1968, Tax-Aide has helped about 50 million Americans with their taxes.

In 2015, Tax-Aide volunteers helped 55,955 people in northern Illinois and 26,921 in southern Illinois prepare and file returns. Volunteers do their work at about 200 sites around the state.

Need for volunteers
For clients of the program, taxes are "that monster hanging out there—the unknown," said Hal Loebach, 74, Tax-Aide state coordinator for southern Illinois. "That's the thing—helping them through what is for them an unknown."

Volunteers are critical to the operation. Last year, Tax-Aide used more than 1,100 of them throughout the state.

"If we had another 20 percent, that would be great," said Tom Noller, 65, state coordinator for Tax-Aide in northern Illinois.

Training for volunteer tax preparers began in mid-October. These volunteers must be computer savvy (because taxes are filed online), must pass the Internal Revenue Service's online exam for preparers and must undergo an orientation for tax preparation software.

Volunteers who don't want to do taxes can serve as greeters at the sites, Noller said. The sites, usually at libraries and community centers, open Feb. 1.

With commercial preparers charging from $200 to $600 per return, Tax-Aide saves clients money. "For someone who's on a fixed income, that makes a huge difference in their lives," Noller said.

Not everyone can be helped, though. About 5 percent of would-be customers have returns that cannot be prepared by volunteers. One such example is a person with investments that require a Schedule K-1 to be filed.

Toby Stortz, a retired church worker who lives in Rantoul, was so happy with Tax-Aide that she overcame her unease with computers to become a volunteer.

About four years ago, Stortz, 68, got in touch with Loebach, a friend, because she needed help with her taxes. "I don't have a whole lot of investments, but I have some, and I didn't quite know how to do them," Stortz recalled.

In 2014, at Loebach's urging, she decided to become a Tax-Aide volunteer. "I'm not a big computer person, and I'm not good with change," she said. During her training, Stortz had a mantra: "I have no clue."

But she finished the training, and in the spring of 2015 she completed 92 returns for Tax-Aide clients. "The people who came in were lovely, and they are happy you can help them," Stortz said.

For more information on Tax-Aide or to find a location, go to aarp.org/taxaide or call toll-free 888-227-7669. Interested in volunteering for the next tax cycle? You can also get information on the website.

Lisa Bertagnoli is a writer living in Chicago.