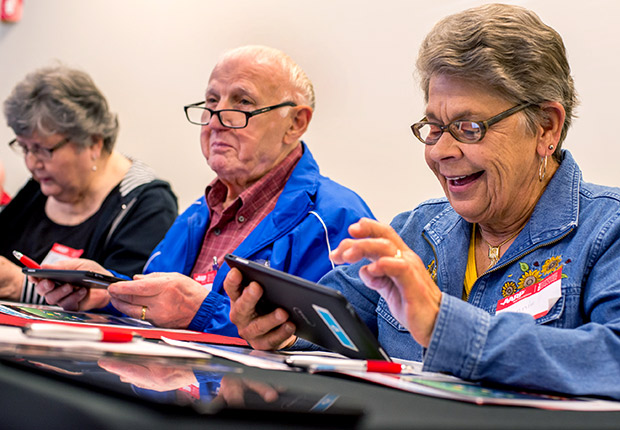 By Lorna Collier

Bonnie Schultz grinned in delight. The 71-year-old retired nurse from Caledonia had just mastered the art of the selfie, taking a photo of herself using the front-facing camera on an Android tablet. It's one of many skills Schultz picked up during a free AARP workshop in Rockford aimed at helping older adults learn more about technology.
"I'm here because my smartphone is showing me how stupid I am—and I need help," Schultz said with a laugh.
Schultz has had a smartphone for about two years and uses it not only for calling but also for sending text messages, which she's found to be an ideal way of keeping in contact with her three grandchildren. "If you text, you'll get an answer; you call and leave a message, you won't," she said.
She wants to know more about skills such as taking, sending and organizing photos; finding and reading ebooks; using Skype (a videoconferencing application); and downloading apps.
Enter AARP TEK. Since last year, AARP has been hosting TEK (Technology, Education and Knowledge) workshops in and around Chicago, as well as other cities nationwide.
These workshops allow AARP members and others to have a hands-on, one-to-one experience with tablets (either iPads or Androids) while grouped at tables of about five to eight fellow users. Each table has a tech guide who can answer questions or help those who get stuck.

Instructors in these two-hour sessions leave plenty of time to practice each new technique. Among topics covered are how to take and share photos and videos, use mobile maps, search online, and find and download apps (the applications that run tablet programs).
While tablets are provided to all TEK participants to use, some of the Rockford students also brought their own. For others, it was the first time they'd tapped a touch screen. But the learning curve was short: By the end of the session, most were flicking and swiping with relative ease.


Don't be afraid
"Our goal is to empower older adults not to be afraid of the technology and to use it to connect with friends, with family, for employment opportunities, for health information—getting people comfortable so they can use the devices in the way that works best for them," said Jennifer Baier, AARP Illinois associate state director for digital strategy.
Response to the program has been so strong that this year it's expanding significantly, with more workshops in more cities around the country.
In Illinois the number of events is expected to soar from about 35 held in 2014 to 200 this year, and smartphone sessions will be added, Baier said.
The content will also be more advanced, covering such topics as social media, fraud prevention and how to locate jobs online.
Most older people are venturing online, though this varies by age, income and education. Nearly 60 percent of those 65-plus use the Internet, 78 percent have cellphones, 22 percent own smartphones, and 25 percent have tablets, according to a recent Pew Research Center report.
However, the percentage of people who use tablets and smartphones declines with age. For example, 75 percent of those 65 to 69 go online, but just 37 percent of those 80-plus do so.
Income plays a key role, too. People 65 and older who earn $75,000 or more are much more likely to go online (90 percent) than those earning $30,000 or less (39 percent).
"More than age, it's socioeconomics creating the barrier," said David Lindeman, director of the Center for Technology and Aging in Oakland, Calif. But as technology gets faster and cheaper, it will become more accessible.
"The more people get exposed to it, the more they'll take advantage of it," Lindeman said.
To find an AARP TEK session, go to aarp.org/aarptek or call 877-926-8300 toll-free.
Lorna Collier is a feelance writer/editor living in Belvidere, Ill.