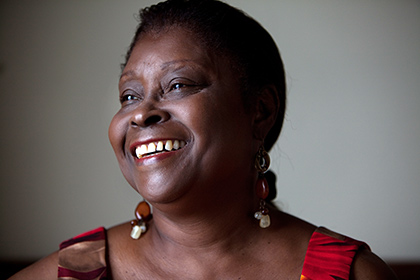 By Donna Liquori • Joan Russell-Benjamin's husband was diagnosed with bladder cancer, the couple was able to afford second opinions and treatment from specialists because they had insurance coverage.

To cope with a serious—and expensive—diagnosis without insurance "must be devastating," the Bronx resident said. "I can't imagine [how difficult it is] for people who don't have health insurance and cannot afford to get the treatment that they need."

Enrollment open now

Beginning this month, New York consumers without insurance—including the 377,000 uninsured between ages 50 and 64—and small businesses can shop for health insurance through the New York Health Benefit Exchange and make side-by-side comparisons of the coverage and cost of plans offered by 17 insurance firms.

The health insurance marketplaces, also called exchanges, were established under the Affordable Care Act (ACA).

Russell-Benjamin, 66, a former New York City deputy inspector general, has volunteered to help AARP get the word out about the ACA. She is handling calls about the law and requests for speakers as part of AARP New York's effort, called ACA Educate New York.

About 200 volunteers are available for presentations to community groups and AARP chapters.

The speakers help dispel myths about the ACA, said Bill Armbruster, AARP New York associate state director.

"Before I got involved with this, I was hearing all kinds of different things," Russell-Benjamin said.

Armbruster said the AARP office is "hearing from people who are on Medicare who think they need to go into [the exchange]. No, if you're on Medicare, you stay on Medicare. If you're on Medicaid, you stay on Medicaid."

All plans offered through the exchange must cover basic health care such as doctor visits, hospital stays and prescription drugs. The insurers can't charge a copayment for preventive care such as mammograms, Pap smears and blood pressure or cancer screenings.

The plans come in four levels—bronze, silver, gold and platinum. Bronze is basic coverage with the lowest premium. Silver is standard coverage, and gold and platinum plans provide higher coverage with higher premiums.

For instance, an Albany resident can pay as little as $237 monthly for the bronze plan or as much as $902 for the platinum plan.

The health insurance law prohibits insurers from denying coverage or charging higher premiums based on preexisting medical conditions, gender or occupation.

Older people who buy private insurance before they are eligible for Medicare at 65 can't be charged more than three times the rate of younger customers' premiums.

Adult children can stay on their parents' plan until age 26.

Coverage goes into effect Jan. 1 for individuals and businesses with 50 or fewer employees who select a plan by Dec. 15. Those who enroll later will be covered about a month after they sign up.

Possible subsidies

Low- and middle-income people may qualify for a subsidy that can be used to lower the monthly premium or can be taken as a tax credit on their federal income tax returns.

The ACA requires nearly all Americans to have insurance beginning next year or pay a penalty of at least $95 on their federal tax return.

Consumers can call a 24-hour hot-line, 800-318-2596, for more information or get one-on-one help from a trained "navigator."

AARP New York is distributing fact sheets in multiple languages, including English, Spanish, Korean and Chinese, Armbruster said.

For more information about the ACA, go to healthlawanswers.org. Request a speaker at 212-407-3780 or email ACAEducateNY@aarp.org.

Donna Liquori is a writer living in Delmar, N.Y.