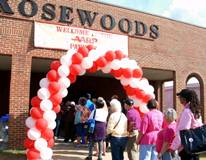 October is finally here and that means it's time for the South Carolina State Fair. Make plans to join us for Senior Day at the fair on Oct. 15 in Rosewood's next to the Moore building from 9 a.m. until 3 p.m.

Between the Tilt-A-Whirl and candy apples, stop by the AARP Pavilion for giveaways and a chance to hear candidates for state-wide offices speak about important issues affecting South Carolinians age 50-plus at the Speak Out stage. Beginning at 10 a.m. Andy Shain from The State newspaper will discuss the upcoming South Carolina election. Candidate for lieutenant governor Representative Bakari Sellers will appear at 11 a.m. followed by State Treasurer Curtis Loftis at noon. Gubernatorial candidate Senator Vincent Sheheen is set for 12:30 p.m. and Congressman Joe Wilson will take the stage at 1 p.m. We'll conclude with gubernatorial candidate Tom Ervin at 2 p.m. Lt. Governor Yancey McGill is also scheduled to make an appearance at the Speak Out stage during the day.

Candidates running for governor and lieutenant governor have been invited to attend and appear on the Speak Out stage. The schedule is subject to change as candidates confirm appearances and updates can be found here.

Not only will we bring the candidates to you, but you can take your questions to them. During the day, visitors can pose questions to candidates and have their picture taken with South Carolina's " flat people," cardboard cutouts of volunteers holding a whiteboard on which the question is written. AARP volunteers and staff will take your questions and post them to twitter for candidates to answer.

Also plan to take time to visit our Life Reimagined photo booth and figure out your "what's next" with one of our representatives. You'll have a chance to speak with volunteers and staff about AARP's Driver Safety Program and volunteering with the AARP Foundation Tax-Aide Program.

We've also partnered with other service organizations and agencies to make sure you get all the information you need about aging services and special programs. We'll have representatives from the South Carolina Department of Consumer Affairs, Lieutenant Governor's Office on Aging, SC HELP and Treasurer's Office to answer your questions.

This is sure to be a fun-filled day that you won't want to miss and we look forward to seeing you at Senior Day at the fair.

Please note: You must purchase a gate admission ticket to enter the fairgrounds.