Serving Kentucky and Fighting for You - 2014 Legislative Agenda
With more than 470,000 Kentucky members, AARP remains the Commonwealth's largest grassroots social change organization. Since 2001, AARP Kentucky has sought to empower and mobilize grassroots citizen advocates supporting its state and federal legislative priorities.
2014 AARP Kentucky Legislative Priorities_web
AARP helps people turn their goals and dreams into real possibilities, strengthens communities and fights for the issues that matter most to families such as healthcare, employment and income security, retirement planning, affordable utilities and protection from financial abuse. AARP Kentucky staff, volunteers and supporters focus on improving access to affordable health coverage, shifting public expenditures from nursing home care to more affordable home and community based services, restoring budget and tax fairness, and preserving consumer protections. We determine our legislative agenda with AARP member input, surveys, and national policy priorities are determined by our national volunteer Board.
Ensuring Real Choices for Long-Term Services and Supports
Americans over age 65 are the fastest-growing segment of the population. Research shows they overwhelmingly want to remain in their homes and communities as they age. Some 89% of AARP Kentucky members polled said they want to live in their own homes and not a nursing home.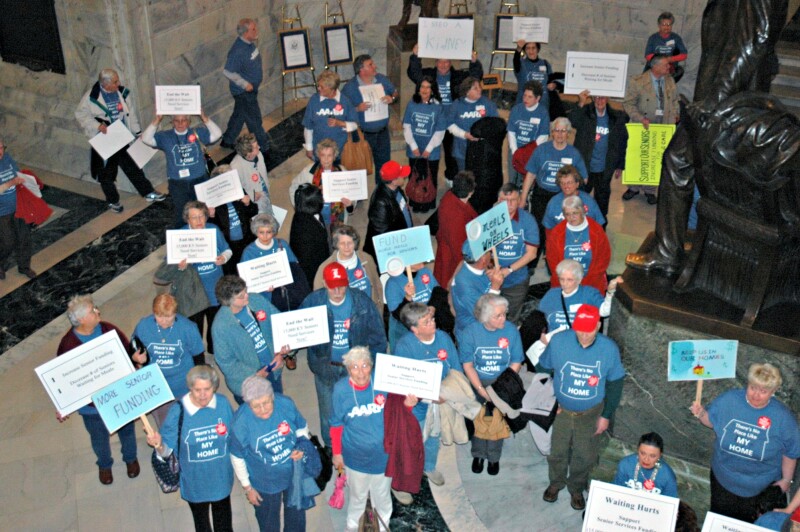 It's time Kentucky cut waiting lists, not people.

81 % of state Medicaid dollars consumed by in long-term care facilities
19,000 waiting for services from the Department of Aging and Independent Living
10,000 waiting for senior meals
3,200 waiting for homemaker services
$69,003 average yearly cost of nursing home care in Kentucky
$17,000 average cost of delivering in-home services
End the Wait, Fill the Plate Campaign - AARP supports improving the balance of funding for home and community-based services (HCBS) by redirecting spending away from costly institutional care and towards supports and services in the community. These vital and cost-effective services promote consumer choice, help Kentuckians live independently and save taxpayer dollars.
Long-Term Services and Supports - AARP Kentucky seeks increased funding for local senior services to meet growing demands and reducing waiting lists for services. These include: meals-on-wheels, senior information and assistance, home care, and local senior centers stable funding for Long-Term Care Ombudsmen.
Accessing Affordable Health Coverage: Removing Barriers to Health Care
AARP is fighting to make health coverage more accessible and affordable to Kentuckians. A proven method to increase health care delivery is to provide greater flexibility to Kentucky Advanced Practice Registered Nurses (APRNs). These are independent providers, never required to work under a physician's supervision. However, in order to prescribe non-scheduled drugs, APRNs are required to have a prescribing agreement with a physician. Without this agreement, the APRN cannot prescribe basic medications. APRNs have a proven track record of safe prescribing and practice in Kentucky.
APRNs and physicians have reached a compromise on a bill to remove the prescribing agreement requirement for non-scheduled drugs.
State Health Insurance Exchange – AARP supports the operation of a state health insurance marketplace allowing individuals, families and small businesses to choose a health insurance plan that best fits their needs. AARP is actively engaged in educating consumers and supporting Kentucky's implementation of its Health Benefits Exchange program as provided for in the Affordable Care Act of 2010.
Medicaid Expansion – AARP supports the state's expansion of Medicaid based on income eligibility standards as provided by for in the Affordable Care Act of 2010. Kentucky Medicaid expansion up to 133 percent of the federal poverty level is making coverage to an estimated 300,000 or more Kentuckians. Fifteen percent of Kentuckians, roughly 640,000 residents in 2013 have no health insurance.

Supporting the state's expanded Medicaid will help tens of thousands of 50 to 64-year-olds who've lost their jobs or are struggling in jobs without health benefits but don't currently qualify for Medicaid health coverage.
Fighting for Consumers: Reliable and Affordable Utility Services
AARP Kentucky will continue fighting for our members and all Kentucky families to have reliable electric, gas, and telephone service they can count on, especially during extreme weather and other emergencies.

We advocate for key consumer protections that promote affordable, accessible, and reliable telephone services regardless of the technology used to provide the service.
Advances in technology are exciting – and have changed the telecommunications industry. New technology must provide all residents with access to affordable and reliable service – with robust consumer protections, including:

Consumers need state regulators to resolve billing disputes and other service problems.
Providers must fix problems in a timely fashion.
Providers need to conduct regular maintenance – not just fixes when major storms hit.
Consumers want affordable rates for basic local exchange telephone service and choices in purchasing only the services they want and need – not expensive bundling of services.
Improving Quality of Care

AARP continues opposing efforts to limit nursing home residents' basic access to justice. The nursing home industry has sought legislation requiring claims of abuse or neglect to be presented before a "medical review panel" to determine if a claim has merit before the claim is filed in court. If passed, new law would create an appointed review panel of lawyers, doctors and other health care professionals.
Enhancing Retirement Security: Strengthen Public Employee Retirement Systems
AARP will engage as needed in legislative efforts to protect retirees from reduction or elimination of promised pension benefits, preserve cost of living adjustments, and limit taxation of retirement income. Today's retirees and future retirees have paid into the system over a lifetime of work and are counting on the public employee retirement systems.

AARP Kentucky's advocacy will focus on assuring the General Assembly meets it full fiscal obligation and contributions to benefit plans and assure solvency for the future retirees.
Fighting for Tax Fairness - AARP remains committed to ensuring that any reforms to state tax structures are progressive and safeguard the financial security of our 50-plus population. In addition to raising sufficient revenue, state and local tax systems should follow the general guiding principles of equity, neutrality, administrative efficiency, and consistency with broader social goals.

Deficit-reduction efforts should avoid cuts in programs that serve low- and moderate-income populations.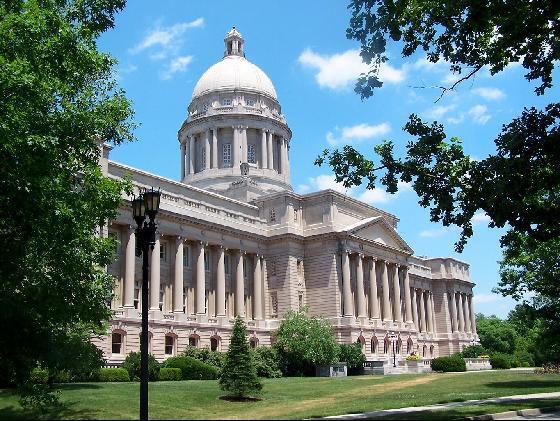 AARP Kentucky Capitol City Taskforce
Members of the AARP Kentucky Capitol City Taskforce represent communities from across the Bluegrass. They bring expertise and experience as grassroots volunteers helping give our members a voice on issues important to you and your family. During the General Assembly, they focus on engaging and assisting with grassroots mobilization in support of key legislative issues.

Judy Cederholm - Bardstown
Jim Kimbrough - Frankfort
Brenda McClanahan - Lexington
Don Rose - Winchester
Normaline Skees - Sonora
Staying Connected:
AARP Kentucky State Office
10401 Linn Station Road, Suite 121
Louisville, Kentucky 40223
Phone: 1-866-295-7275 (toll-free) Fax: 1-502-423-7031
Connect Anytime:
kyaarp@aarp.org ● www.aarp.org/ky ● www.facebook.com/aarpkentucky ● www.twitter.com/aarpky www.youtube.com/aarpky . www.instagram.com/aarpky . www.pinterest.com/aarpkentucky