The King and HER Scribe - with Eleanore Herman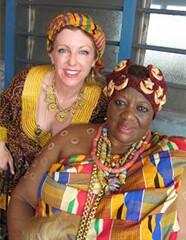 King Peggy will be appearing at the Des Moines Civic Center and sharing her story as the King of Otuam, a fishing village of 7,000 people in Ghana. This presentation is the third in the 'Smart Talk Connected Conversation series*' and is scheduled for Tuesday evening March 12 at 7:30 p.m.
AARP members get a 15 percent discount on selected seats. For tickets call (515) 246-2300 and use the code "AARP" when ordering your tickets.
You will also be able to stop by the AARP booth before the show to get helpful information about AARP's Caregiving Resource Center and resources that will help you and your family to plan for your retirement.
In 2008, Peggieliene Bartels received a phone call that would change her life. Working as a secretary at the Embassy of Ghana in Washington, DC, Peggy was told she had been chosen as the King of Otuam, a fishing village of 7,000 people in Ghana. As the first female ruler of Otuam, it was clear she had her work cut out for her. She soon began to suspect that they had chosen her specifically because she lived so far away – and, as a woman, she would be weak and not able to change the legacy of corruption.
Today, King Peggy is known as a headstrong, decidedly modern female king. An important part of her mission as King of Otuam is to bring empowerment to women. Peggy says, "I truly believe that the future of Africa lies in the hands of its women. Women, who nurture the children and take care of resources for the entire family, must be educated to bring these gifts to their communities. Come meet a woman who became a king in a day and an inspiration for life!
King Peggy's scribe is Eleanor Herman who calls herself a "Sherlock Holmes of history." Her fluency in French, German, and Italian has been invaluable in researching sources that have never been translated into English. Most recently, Eleanor co-wrote King Peggy: An American Secretary, Her Royal Destiny, and the Inspiring Story of How She Changed an African Village. Come hear Eleanor's story about watching a secretary become a king and how she grew from the experience as well.
* This is not an AARP event. Any information you provide to the host organization will be governed by the host organization's privacy policy. Discount is for new customers only and subject to availability and select seats. Offer not valid on previous purchases or with any other offers.