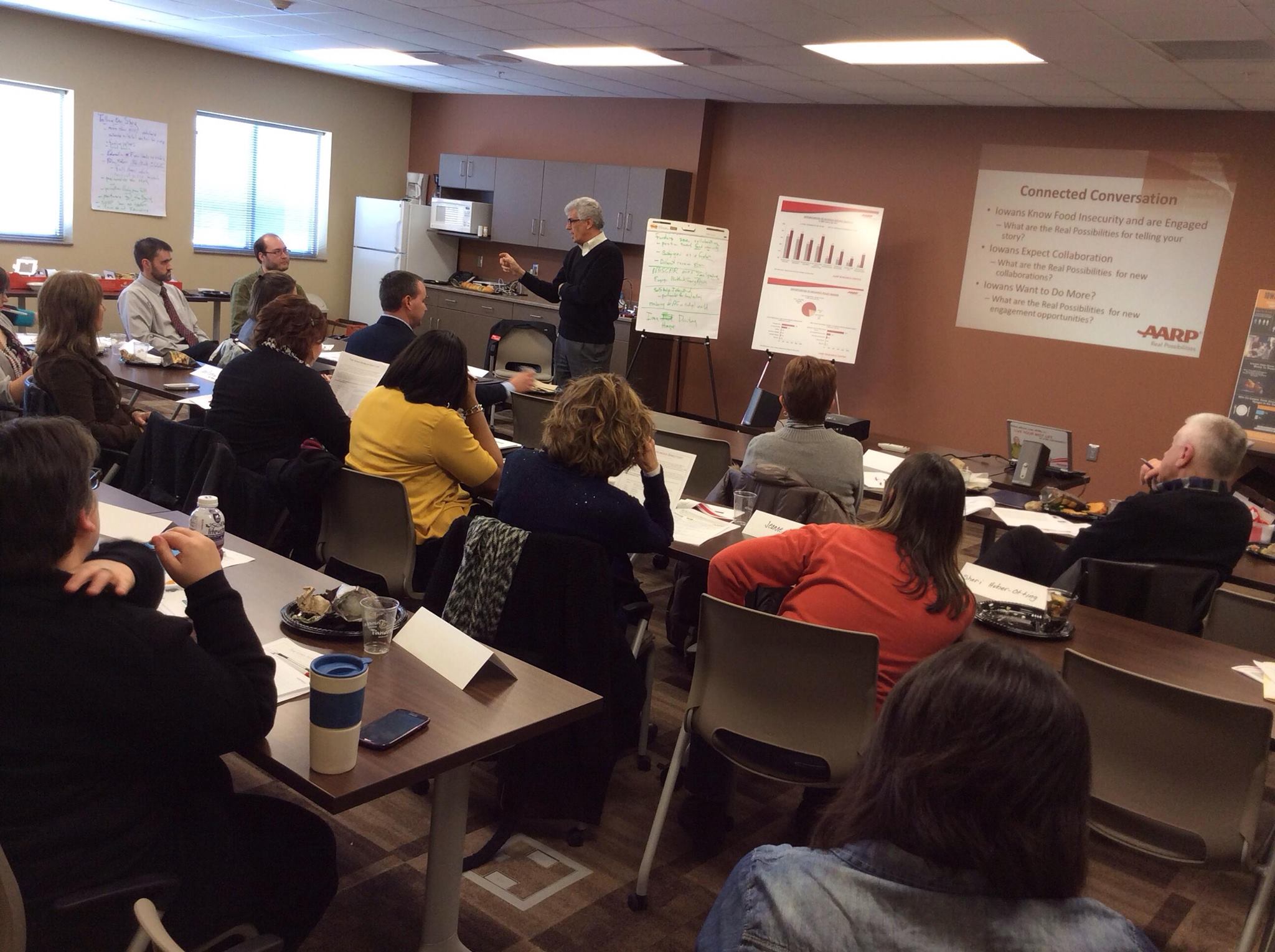 AARP Iowa thanks the Iowa Food Bank Association and member food banks in Cedar Rapids, Waterloo and Sioux City for recently co-hosting provocative discussions with area thought leaders on how to advance hunger awareness and action in their communities.

The three sessions with HACAP Food Reservior, Northeast Iowa Food Bank and Siouxland Food Bank attracted leaders from a wide cross section of organizations including faith-based groups, food pantries and shelters, social service agencies, legislators, hunger activists and members of the media to talk about the barriers to broader community adoption, acceptance, or advocacy for food insecurity in their community.

AARP Iowa State Director Kent Sovern, Iowa Food Bank Association Director Cory Berkenes and directors of local food banks - Amanda Pieper of HACAP Food Reservior, Barb Prather of Northeast Iowa Food Bank and Linda Scheid of Siouxland Food Bank led the conversations in each community. Stephen Lauer, Program Coordinator of The World Food Prize Foundation and editor of the Iowa Hunger Directory, captured the conversation at each of the events.

The agenda built off three key findings from the 2013 AARP "Hunger in Iowa" survey of 800 adult Iowans age 18+:
• Most adult Iowans view hunger as an important issue in the state, with a third saying it is a very important issue and nearly half saying it is a somewhat important issue.
• Many Iowans are involved in the fight against hunger and many more would be interested in helping if asked. At least half of all adult Iowans have donated money or donated food to an organization providing food to those in need, donated food to a food drive, or gave money directly to a person, family, or neighbor in need in the last 12 months.
• Most Iowans think state government and local organizations should help reduce hunger in the state. Nearly three-quarters say both the state government and public or private organizations and individuals should help reduce the number of families at risk for hunger in Iowa.

You can join in the discussion by reviewing the ideas, best practices and innovative programs Series IA Hunger Thought Leader Meeting Notes these community leaders discussed and find contacts to engage with your local food bank director, the Iowa Food Bank Association, the Iowa Hunger Directory and AARP.