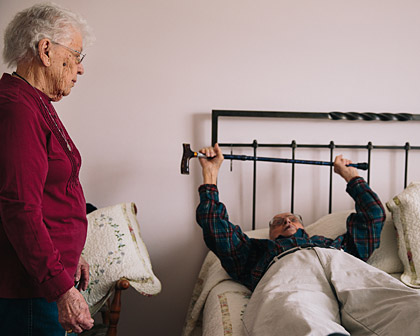 By Donna Liquori

• For 15 years, Joyce and Fred Schork crisscrossed the United States in a motor home, the routes traced on a framed map in their suburban Albany home.

But after Fred had triple bypass surgery in 2000, his memory began fading.

"He can't remember anything from his childhood. We did a lot of traveling after we retired, and he can't remember anything about that," said Joyce, 88, a retired school nurse.

The couple moved from Florida to an apartment near their daughter. Despite her own medical problems, Joyce became a full-time caregiver to her husband, who was diagnosed with Alzheimer's disease.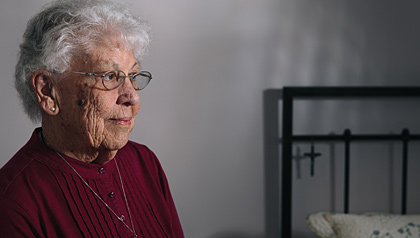 Joyce brought in aides several days a week to help with her 91-year-old husband after he fell in the shower in December 2011, and she couldn't lift him.

Up until then she did it all.

To keep from becoming overwhelmed, Joyce discovered resources through her husband's doctor's office and the town of Bethlehem's Senior Services Department, including social gatherings and a support group.

It was helpful "to hear that other people have the same problems and to not feel guilty about getting help," she said. "I found that a lot of people—women especially—feel guilty if they're not doing ... everything for their loved ones."

Joyce is not alone in carrying the caregiving chores for a family member. As of 2009, more than 4.1 million New Yorkers were caring for an ill or frail family member at home, according to an AARP Public Policy Institute report (pdf). The value of those services, according to the report, topped $32 billion.

New York State Office for the Aging spokesman Reza Mizbani said more than $15 million in state and federal money is allocated to programs that benefit New York caregivers.

"These programs, in our opinion, are woefully underfunded for what the need is," said Bill Ferris, AARP New York associate state director for advocacy. But he cautioned that increased services for caregivers should not come from reduced budgets for other senior services.

Ferris said more support for caregivers saves the state money in the long run. The longer a loved one can be cared for at home, he said, the more money the state saves by avoiding nursing home costs that are paid by Medicaid.

For many caregivers, the first stop to find help is one of the state's 59 Area Agencies on Aging or Offices for the Aging.

They provide information on case management, free legal services to eligible older adults, home-delivered prepared food, assistance with health insurance questions and transportation. Services are free or based on a client's ability to pay.

For instance, the Rockland County Office for the Aging is a clearinghouse for information on caregiving and other needs of older adults.

Residents who call the office are directed to various services, including a respite program to give caregivers a break.

Frail or ill family members can be placed in a nursing home or in an assisted care facility for up to a week at no charge, allowing the caregiver to have some time off and reduce the stress of full-time caregiving, said the agency's director, June Molof. Respite care, along with programs such as support groups and home-delivered meals, helps decrease caregivers' stress, she said.

"There are more illnesses among caregivers than the normal population," she said. "That's why the respite is so vital."

Information on long-term care options is available at NY Connects at nyconnects.ny.gov and at AARP's Caregiving Resource Center at
aarp.org/caregiving.

To urge state legislators to provide more funding for programs that help caregivers, call 800-869-5861.

Donna Liquori is a writer living in Delmar, N.Y.