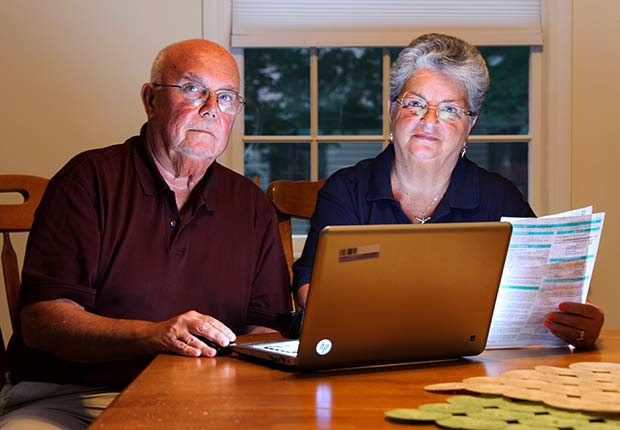 By Michelle Cerulli

About three years ago, Gordon Mathieson, of East Falmouth, received a call at home from his bank. The representative was looking for his wife, Ann, who was at work in a real estate office.

When Ann returned the call, she learned that someone in California had obtained her account information and made four withdrawals totaling $1,650.

Because one of the transactions was greater than their daily account limit, and the quick, repetitive withdrawals were made far from home, the bank decided to call the Mathiesons.

"The bank didn't tell me how it happened or where, exactly, it happened," said Ann, now 69. "There were no answers."

The bank reimbursed Ann's account, but it took many months and much work for the couple to move past the incident. Ann had to apply for a new account number and update businesses and bills associated with the account. She was also hit with late fees for automatic payments that didn't go through while the bank was investigating the fraudulent activity.

"We were blindsided," said Gordon, now 69. "It took a lot of time to recover."

The Mathiesons are not alone. A recent Federal Trade Commission report estimated that 25.6 million adults in the United States, or 10.8 percent of the adult population, were victims of fraud in 2011. Scams involved everything from weight-loss products and prize promotions to unauthorized billing for club memberships and Internet services.

AARP is seeking to combat such scams and educate the public with a national initiative called the Fraud Watch Network. One of its major resources is a robust website that provides tips and tools to help avoid fraud. People can sign up for Watchdog Alerts and share their own stories of fraud or identity theft. To learn more and to sign up for the AARP Fraud Watch Network, go to aarp.org/fraudwatchnetwork.

People helping people
As part of the national effort, AARP Massachusetts will start training volunteers next year to give presentations to community groups about the issue. The events will be free, open to the public and geared toward people of all ages. AARP Massachusetts is currently seeking Fraud Watch volunteers.

"In Massachusetts, we're very focused on the issue of financial exploitation," said Michael Festa, AARP Massachusetts state director. He said the average person doesn't have the time to match the efforts and sophistication of scammers. That's where AARP, as a watchdog, educator and advocate, comes in.

"AARP is in the business of protecting Americans' financial security," Festa said. "It's part of our social mission."

Gordon Mathieson, an author who worked in information technology for 30 years before retiring, plans to volunteer, and said he's looking forward to meeting and speaking with residents around the state.

"AARP is people helping people, and that's what I like to do as a volunteer," Mathieson said.

"We're all telling our stories," he said. "These will go into a data­base so that AARP will have a wealth of information on scams and be able to work with state policymakers and officers around the country to exert pressure on these crimes. We want to know where it hurts—and help."

To become a Fraud Watch Network volunteer or to learn more, call 866-448-3621 toll-free.
Michelle Cerulli is a writer living in Brookline, Mass.