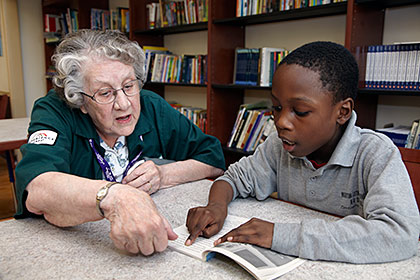 By Jill Gambon • It warms Peg Buckman's heart when the kids call out "Miss Peg is here!" as she arrives at the Martin Luther King Jr. K-8 School in Boston's Dorchester neighborhood.

But what she loves most about being a volunteer reading tutor is when students suddenly decipher the words on a page or understand the meaning of a story.

"It's rewarding when a student succeeds at something for the first time and realizes it," said Buckman, 80, a retired school administrator. "You see the light go on."

An AARP Experience Corps volunteer, Buckman spends 10 hours a week during the school year working with first- and second-graders who need help with vocabulary, reading and comprehension skills. She tutors individual students and works with small groups.

Experience Corps volunteers age 50 and older work with students in kindergarten through third grade whose literacy skills lag. Volunteers work 10 to 15 hours per week during the school year. Launched in 1995, the nationwide program became affiliated with AARP last year.

Literacy linked to success

Research indicates that strong literacy skills in the early grades are critical to future school success.

A report issued by the Annie E. Casey Foundation last year found that 16 percent of children who do not read proficiently by the end of third grade do not graduate from high school on time, a rate four times greater than that of proficient readers.

In Boston's public schools, the need for help is especially acute: Last year's Massachusetts Comprehensive Assessment System test scores showed that 66 percent of third-graders were not proficient in literacy skills.

To help, 272 volunteers provided literacy and reading support to 3,200 students in Boston and Revere public schools last year. Experience Corps is looking for additional volunteers for the 2013-14 school year.

"The volunteers make quite an impact," said Mary Gunn, executive director of Generations Incorporated, a nonprofit that runs the Boston affiliate of Experience Corps.

To gauge the program's effectiveness, students who receive individual tutoring are tested on reading comprehension three times during the school year. On average, those students demonstrate 60 percent more progress in reading skills than students who don't receive tutoring, Gunn said. Students who participate in 35 or more tutoring sessions post even higher gains, she said.

Volunteers undergo a background check and receive 20 hours of training—five hours before they start tutoring and 15 during the school year. They are assigned to a team, enabling them to share tutoring tips. They attend monthly meetings to get updates about the program from team leaders

"The training is excellent. It's well-structured, and you get lots of support," said Buckman, a South Boston resident who joined Experience Corps eight years ago.

Benefits go both ways

Students aren't the only ones who benefit from the program. A 2009 survey of Experience Corps volunteers found that the majority reported improved mental and physical well-being.

"Volunteers seek meaning in the tutoring they do, and they also seek to connect to others," Gunn said.

Buckman often joins other Experience Corps volunteers for coffee hours and "crafternoons" where members gather to knit items that are donated to organizations serving homeless veterans, their families and other groups.

Generations Incorporated organizes these and other activities for volunteers, including book clubs and walking groups.

Buckman, a grandmother of 14 and great-grandmother of nine who uses a cane or a walker to get around, said she teaches more than literacy skills: She helps students understand what older people with disabilities can accomplish.

"I tell the kids the body is getting older, but the brain still works," she said.

For more information about volunteering, call 617-399-4700 or send an email to kklister@generationsinc.org.



Jill Gambon is a writer living in West Newbury, Mass.