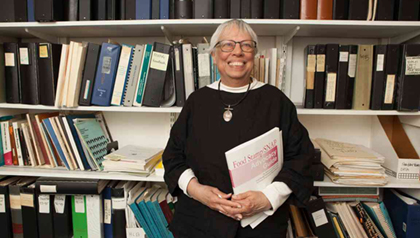 By Michelle Cerulli

When Pamela B. Hall learned she was diabetic two years ago, she was shocked.

Worn knees and other disabilities mean she must use a wheelchair now, but Hall, 69, of Northborough, once led an active life, training horses and teaching others to do the same. Professionally, she worked as a switchboard operator and a receptionist before retiring 10 years ago.

"Now that I'm diabetic, I can't eat what I used to," said Hall. "You really have to watch out for diabetic people's diets. They need to eat lean meats, fish and vegetables, which are not always the cheap options."

Hall participates in the Supplemental Nutrition Assistance Program (SNAP), formerly known as food stamps, administered by the Massachusetts Department of Transitional Assistance. Roughly 500,000 households in Massachusetts receive SNAP benefits.

But Hall's monthly benefit was not enough to cover the healthy foods she required. Additionally, out-of-pocket medical expenses to manage her illnesses were a financial burden. With the help of AARP Massachusetts and the Massachusetts Law Reform Institute (MLRI), a nonprofit poverty law and policy center, she learned about SNAP's medical deduction provision.

It allows households with at least one person 60 or older or disabled to receive a deduction from their income level if the person has out-of-pocket monthly medical expenses exceeding $35. Eligible expenses include health insurance premiums, doctor copayments, prescription and over-the-counter drugs, home health aides, physical therapy, hearing aids, eyeglasses, walkers and dental care.

In March, the standard SNAP medical deduction increased from $90 to $155. That means more people are now eligible for SNAP or receive higher payments because their net income is lower.

For example, Hall's SNAP benefit increased from $81 to $141 per month, allowing her to buy the nutritious foods necessary to maintain her health. Statewide, roughly 18,000 people were positively affected by the change in March.

Spreading the word

AARP Massachusetts is spreading the word about the provision by recruiting and training volunteers to talk to people who might be eligible.

"I love to see the light go on when someone understands something," said Rosemary Jones, 71, a volunteer from Jamaica Plain. "And then, when you get to see someone you helped help someone else, that's incredible."

A retired social worker, Jones has worked with AARP Massachusetts and the MLRI since last July. She has made presentations about the SNAP benefit to AARP chapters and community groups around the state.

AARP Massachusetts also hosts monthly SNAP outreach clinics, where staff and volunteers meet with older people one-on-one to provide benefit estimates. In March, the first clinic was held at Central Boston Elder Services. Five volunteers answered questions and helped 10 people complete SNAP applications, with a focus on the medical deduction.

Sasha Goldberg, SNAP outreach coordinator for AARP Massachusetts, said the increased deduction can make the difference for someone having to choose between food and medical bills.

"It's a huge thing that not many people know about," she said. "Everyone's jaws drop when they hear of the medical deduction."

Michelle Cerulli is a writer living in Saugus, Mass.