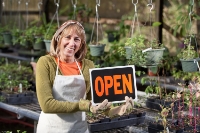 Gathering the resources and confidence to start a new business or job can be daunting. AARP Massachusetts invites members to get a nudge from inspirational tips and advice at a Work Reimagined event on April 13 in Dorchester.

"The Power of Rebranding—You or Your Small Business" will be held from 6 to 8 p.m. at the Boston Winery. Presenters include Monica Sullivan, branding guru and vice president of acquisition marketing at Constant Contact, and Nadia McKay, president of Mom Corps Boston.

The event will include a panel discussion, opportunities to ask questions, a wine tasting with appetizers, and a chance to network with other entrepreneurs and professionals. The event costs $25, and registration is required by April 8. Go to lifereimagined.cvent.com/boston to register.