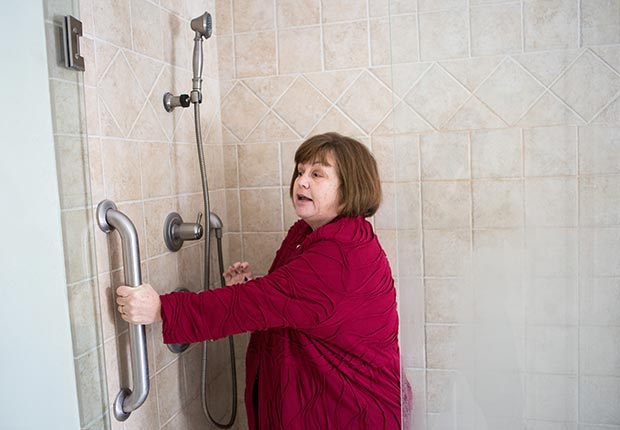 By Michelle Cerulli

For the past two years, Beth Gray-Nix has volunteered with AARP by presenting HomeFit workshops to groups around the state. She educates participants about home modifications, such as installing grab bars in the shower or placing electrical wires under rugs to prevent tripping, to help people continue to live safely in their homes as they age.

After 30 years as an occupational therapist, Gray-Nix, 59, who retired in 2008, wanted to put her professional knowledge to further use.

"There are accidents that are very preventable," she said. "Some are $2 or $3 fixes at Home Depot."

Gray-Nix, of Natick, is one of about 800 AARP volunteers in Massachusetts. In addition to HomeFit, members lend their time and skills to programs such as AARP Foundation Tax-Aide, which offers free tax preparation services, and Driver Safety, which teaches new driving skills and rules of the road, as well as Life Reimagined and the AARP Fraud Watch Network, said Kara Cohen, community outreach director for AARP Massachusetts.

"Our volunteers are often newly retired, but we are starting to get more people who are semiretired and have a more flexible schedule," Cohen said. "With their help, we aim to reach the thousands of people across the state who stand to benefit from our advocacy, service and education."

Dennis Hohengasser, 66, of Taunton, is another dedicated AARP volunteer. Since January 2015, he has given more than a dozen Fraud Watch Network presentations, sharing important and timely information about the latest frauds and scams. Comfortable in front of a crowd, Hohengasser adapts his talks to each group, depending on people's questions.

After 33 years in staff development training, Hohengasser retired in August 2014. He has led discussions at senior centers, churches and other locations in cities and towns including Taunton, Rockland, Hyannis and Northampton.

Hohengasser said scammers know how to put people "under the ether," and once that happens, fraud victims "lose all rational thinking."

At the end of every presentation, Hohengasser reinforces three things: "Don't think 'It can't happen to me,' because it can; if it's too good to be true, it is; and don't be a victim."


Advocate for older people
Richard Leccese, 70, who will become president of the AARP Braintree chapter in May, has volunteered with AARP for five years. Through his work with the Massachusetts state office, Leccese lobbies for the interests of older people at the State House as a member of AARP's advocacy team.

"If a law is waiting to be passed, we go up there and voice our opinion," said Leccese, who retired six years ago as a workers compensation analyst. Leccese also sings in his church choir and is a member of the Men's Club of Braintree and the Sons of Italy, among other volunteer activities.

As part of Life Reimagined, volunteer Sandra Harris, 65, guides participants through a dynamic step-by-step process to help them identify or awaken a new interest or passion, or undergo a life transition—whether large or small.

Harris, who lives in Boston and owns an interior design firm there, facilitates group sessions, where she introduces participants to the program, acquaints them with workbooks and explains ways to continue their journey after the session.

"We're looking at making the most of the life one has left," Harris said. "We do this by looking back, reflecting on the lessons learned and the things most important to us at this time. And then taking the steps needed to make sure we're moving forward with a life of meaning and purpose." Harris said she has a passion to help people be the best they can be.

"AARP's programs are really closely aligned with the kinds of things I want to do in my life right now," she said.

AARP Massachusetts is actively seeking volunteers for all of its programs. To learn more about volunteering, call 866-448-3621 toll-free or email ma@aarp.org.

Michelle Cerulli is a writer living in Saugus, Mass.