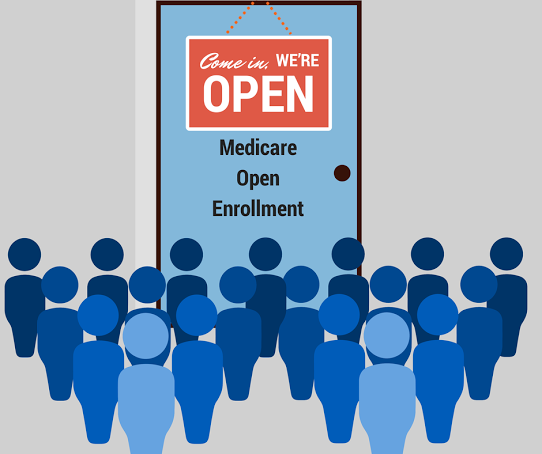 Medicare open enrollment, which begins Oct. 15 and runs through Dec. 7, is the one time each year when you can make changes to get the health and drug coverage that fit you best.

Your needs and Medicare plan benefits can change over time, so use the open enrollment period to compare your options and if necessary, switch to another Medicare plan that fits you better.

You can compare the plans available in your area, and enroll in a new plan if you choose, by visiting the Medicare website or calling 1-800-MEDICARE ( 1-800-633-4227).

What to Consider When Selecting a Medicare Plan

When looking at your options consider the four C's: coverage, cost, convenience and customer service says, Nicole Duritz, AARP Vice President of the Health & Family issues.

Coverage –Make sure the doctors you currently see and the medications you take will be part of your plan in the coming year. If not, then it's important to review other Medicare coverage options.
Cost –Like most other insurance, Medicare does not pay for all your health care costs. You are responsible for paying for expenses such as deductibles, coinsurance and co-payments. If two or more plans seem to offer about the same coverage, consider choosing the plan with the lowest overall cost.
Remember, don't just look at the premium (monthly payment). You should also take into account the deductible (how much you pay out-of-pocket before insurance kicks in), coinsurance and copayments (how much you pay out-of-pocket for each service like visiting a doctor or filling a prescription).
Convenience –Compare plans to see which doctors and hospitals are included in the coverage, as well as what local pharmacies participate. If you prefer mail-order pharmacies, check out which plans offer this option.
Customer Service –The Medicare plan finder tool provides a quality rating for each plan. The rating covers several aspects of each plan, including customer service, member complaints, drug pricing, managing chronic conditions and more.
Remember, Medicare open enrollment ends on Dec. 7 and any changes you make to your Medicare selections will go into effect on Jan. 1, 2016.

If you're thinking about changing your coverage or have questions about your options, check out our free Preparing for Medicare Open Enrollment Webinar. You can also visit the AARP Medicare Question and Answer tool.