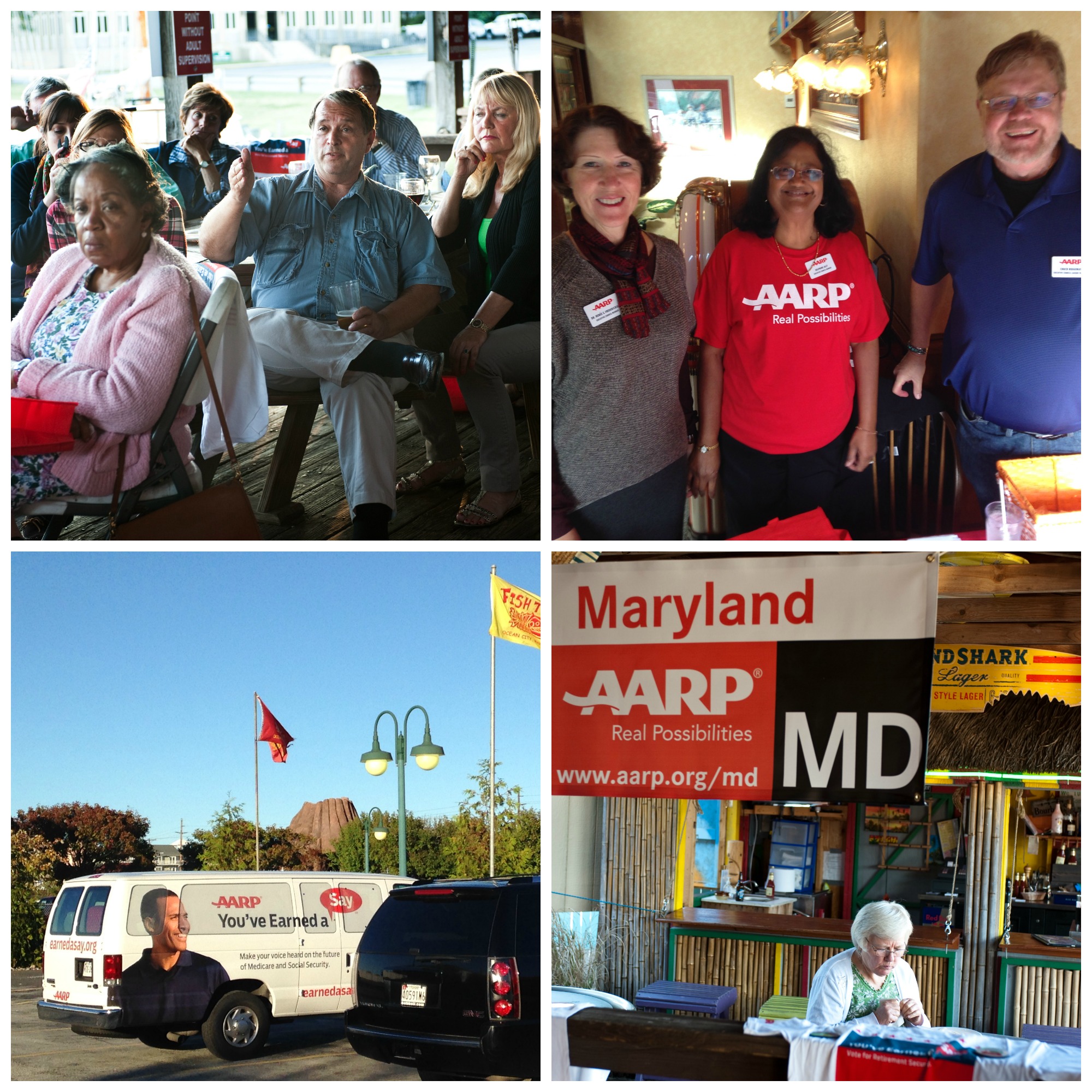 10/1 Update: Our third and final event in Waldorf is now at capacity, but seats remain for our other two events! Sign up below.

Do you live in southern Maryland? Would you like a chance to talk to AARP in your community about the issues that matter to you and your family? Now's your chance! AARP Maryland is hosting three member events around Southern Maryland during the dates of October 7-9, 2014, to raise awareness on important issues including retirement security, keeping utility rates as low as possible, and elder abuse.

Join us for a conversation on these important topics, have refreshments and make your voice heard. These free member events will be an opportunity to network with other AARP members and talk our AARP team about the issues that are important to you.

There will be three great opportunities to get connected! Read on for the details and then register to attend one, two, or all three! Registration is required to attend all events.

To register for any of the events or for more information, visit our online registration page now.

AARP Maryland's Tour of Southern Maryland Events:

Tuesday, October 7, 2014
What: AARP Member Networking Social
Time: 5:00 PM – 7:00 PM
Location: Stoney's Kingfishers in Solomon's Island
14442 Solomons Island Rd S,
Solomons, MD 20688

Featuring complimentary drinks & hors d'oeuvres, AARP Maryland State Director Hank Greenberg will host a conversation about the issues important to older Marylanders. This fun event will provide an opportunity to meet and network with other AARP members, enjoy a bite to eat and take advantage of the relaxing atmosphere.

Register for this event

Wednesday, October 8, 2014
What: AARP Member Community Breakfast
Time: 9:00AM - 11:00AM
Location: Northern Senior Activity Center
29655 Charlotte Hall Rd.
Charlotte Hall, MD 20622

Prefer to have a breakfast discussion? No problem! Join AARP MD at Charlotte Hall as we provide a wonderful breakfast and conversation on important issues to help you made decisions about your future.

Register for this event

Thursday, October 9, 2014 - NOTE: This Event is Now Full!
What: AARP Member Community Breakfast
Time: 9:00AM – 11:00AM
Location: Greater Waldorf Jaycees Community Center
3090 Crain Highway
Waldorf, Maryland 20601

AARP Maryland's final community conversation during the Tour of Southern Maryland will take place at the Greater Waldorf Jaycees Community Center. It will feature another interesting, rousing discussion with a wonderful, complimentary breakfast provided by AARP. Bring your ideas and questions and come hungry!

Register for this event

Seats for these events WILL fill up quickly, so save the date and register as soon as possible.

We look forward to seeing you during our "Tour of Southern Maryland!"

Think you know AARP in Maryland? You don't know 'aarp.' We're working to support family caregivers, achieve affordable and reliable utilities, and build new tools to help working Marylanders save for retirement. But that's not all. From standing up with leaders to spur change in your community to taking part in free movie nights, networking events, and fun social opportunities, what we're doing might just surprise you.

Visit AARP.org/MD to learn how to unlock your Real Possibilities right here in Maryland.