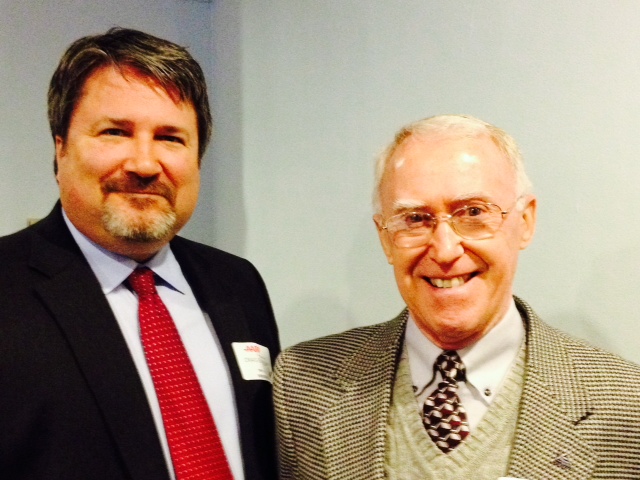 Today, Marvin Sands of Independence participated in the graduation ceremony for the AARP's Volunteer Leadership Institute or VLI. He was joined by 32 other exceptional volunteers from all across the country. Richard Harwood, founder and president of the Harwood Institute for Public Innovation, was a guest speaker.

VLI is a rigorous and innovative training opportunity launched by AARP in December 2012 to mobilize highly skilled and motivated AARP volunteers to the next level of volunteer leadership. This third VLI class was designed and scheduled to appeal to the "new breed" of volunteer - tech savvy leaders who may still be in the workforce. Participants met both in person and virtually over a six-month period and used their new skills, techniques and knowledge to work more effectively with their AARP state office or program partners as leaders of volunteer teams and in the community.

"This has been, by far, one of the best experiences I have had," Sands said. "The caliber of individuals who participate in the VLI program is outstanding and I am fortunate to have been a part of this august group." Sands will soon utilize his VLI experience when he partners with fellow VLI graduate Sidney McCarther of Kansas City to present a training session during the upcoming AARP Missouri Volunteer Orientation/Issues Briefing/Training Meeting in Columbia.

"As a long-time AARP volunteer, the VLI has equipped me with tools that will enable me to better give back to my community and to share information with other enthusiastic and committed volunteers in our state," Sands added. He has held many positions with AARP Missouri and is currently the Speak Out! volunteer speakers bureau presentation coordinator for the Kansas City region, social media volunteer, and member of the Kansas City Volunteer Team.

AARP is one of the leading volunteer organizations in the nation, with more than 55,000 active volunteers. Earlier VLI graduates have made early strides as well, taking on new responsibilities, such as serving on committees and task forces; representing AARP as subject matter experts at events and conferences; and reaching thousands of people through speaking engagements.