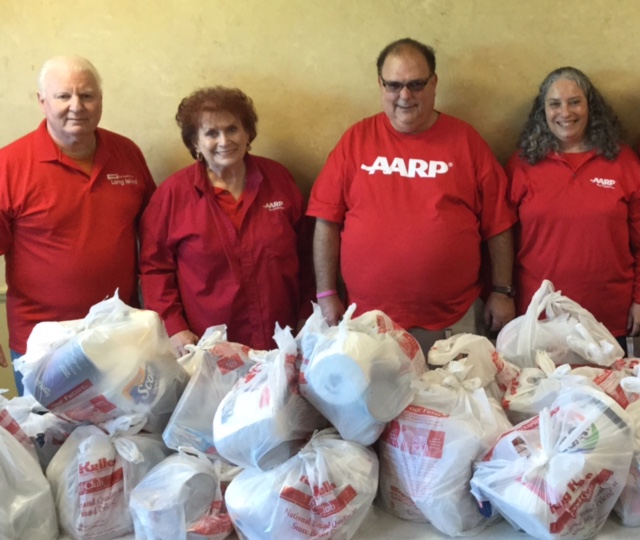 Volunteer efforts are a valuable commodity. And, the Oyster Bay AARP volunteer team are truly rising and shining stars, reaching out to those in need in the community. With the help of a few volunteers and generous donations of Massapequa Park's King Kullen shoppers, the AARP team lifted and weighed hundreds of grocery bags to help stock the tables and shelves of a local food pantry. "Thanks to our many volunteer helping hands and very giving neighbors, we raised close to 800 pounds of canned foods and non-perishable items, in only one day," said Judy Kaplan, Oyster Bay AARP coordinator.

"Together, we brightened the shelves at the St. Rose OF Lima food pantry to help neighborhood families and seniors who are food insecure. There are approximately 64,900 people every week across Long Island that receive emergency food at food banks. And, I am extremely proud of the Oyster Bay team for their success in accomplishing their first-ever local hunger drive," said Bernard Macias, newly appointed Associate State Director for AARP Long Island. "AARP Long Island wants to thank all shoppers who generously donated and supported them in this successful effort, And we owe a special thanks to King Kullen of Massapequa Park, Brian Bourguignon, the store manager, and his staff for allowing the team to use their store location to hold this event."

The Oyster Bay AARP team is planning to repeat this anti-hunger initiative next year, and help work to fill other local food pantries.