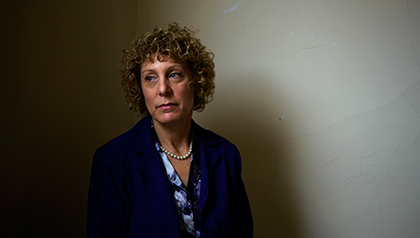 By Christopher J. Gearon

Barbara Korenblit, a division chief in the Baltimore County Department of Aging, has seen an increase in cases like this: An 82-year-old woman called Korenblit's office after being ordered to appear in court over thousands of dollars in unpaid credit card bills attributed to her granddaughter, who surreptitiously obtained the woman's Social Security number to obtain a credit card.

The woman also received harassing calls from creditors and found that her bank account had been garnished—all because of bills her granddaughter was believed to have incurred in her name.

Once the county's aging office intervened, it was determined that the woman's bank account could not be garnished because it contained only her Social Security funds. Still, the woman lost $40,000, presumably taken by the granddaughter.

The woman decided not to press charges and her missing money was never recovered, Korenblit said.

Elder abuse can take different forms—from physical to sexual to neglect—but state officials point to a rise in financial exploitation.

One in 10 older adults report being abused, neglected or exploited each year, said Kathleen Quinn, executive director of the National Adult Protective Services Association. One in 20 report being financially exploited each year.

And in the vast majority of those cases, the perpetrator is a family member, Quinn said.

Last year, the state investigated about 7,000 claims of abuse, substantiating nearly 40 percent of complaints, said April Seitz, director of the Maryland Social Services Administration's Office of Adult Services. Seven of 10 cases involved persons age 60-plus. Of those, 15 percent involved financial exploitation. The Office of the Attorney General also reported a rise in scams targeting older adults, which tend to be perpetrated by strangers.

A possible reason for the rise in elder abuse complaints, Seitz noted, may be a 2012 state law that requires banks and other financial institutions to report suspected financial abuse of an elder adult. Investigations are generally handled within a month.

'We'll probably see more'

Elder abuse "is becoming more and more of an issue, and as the population ages we'll probably see more of this," said Seitz. "People who are isolated from the community are more at risk of abuse, neglect or financial exploitation because no one can quickly see when something suspicious might be happening."

Even when officials unearth complex financial records and detect fraud, victims often are reluctant to send their relatives to jail.

To focus attention and turn the tide on elder abuse, AARP Maryland has partnered with county aging departments. For example, as a member of the Baltimore County Restoring Elder Safety Today (BC-REST) coalition, AARP Maryland is sponsoring an event at the Owings Mills Public Library on June 13, from 10 a.m. to noon, in conjunction with World Elder Abuse Awareness Day. For more information, call 410-887-4200.

The event "is intended to raise awareness," particularly among women, said Jennifer Holz, AARP Maryland associate state director for outreach. "Women are two times more likely than men to be scammed financially."

AARP Maryland is working with county aging offices throughout central Maryland to bring attention to elder abuse.

The state Department of Aging's elder abuse hotline is 800-917-7383.

Christopher J. Gearon is a writer living in Derwood, Md.