This article will be updated as more Fraud Watch events are added! Below is the current list as of June 16, 2016.

Every year, thousands of Americans are impacted by fraud and scams through telephone calls, mail, e-mail, and digital advertisements. However, you can beat con artists at their own game by joining the AARP Fraud Watch Network and attending one of our many Maryland Fraud Watch Events listed here: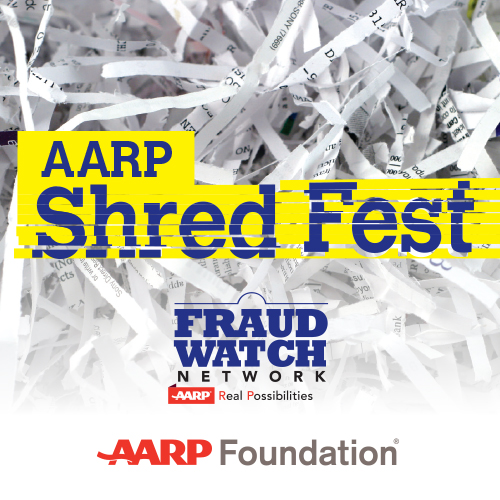 AARP Shred Event, Ocean Pines Library, Berlin, MD

Saturday, June 25, 2016
8:00 AM - 12:00 PM
FREE!

Ocean Pines Public Library
11107 Cathell Rd
Berlin, Maryland 21811
Register now

On June 25th AARP Maryland is holding a "Shred Fest" at the Ocean Pines Public Library, 11107 Cathell Rd Berlin, Maryland 21811. Community partners will be there and refreshments will be served. AARP will provide you with the opportunity to bring get your sensitive documents shredded – for free--limit 5 boxes! Come to the Shred Fest to dispose of them, safely so you can protect yourself from fraud and identity theft. Pre-registration is required! 



AARP Fraud Watch Network Training, Baltimore, MD

Wednesday, July 13, 2016
11:00 AM - 1:00 PM
FREE!

AARP Maryland State Office
200 St. Paul Place
Baltimore, Maryland 21202
Register now

AARP is arming Americans with the tools they need to spot and avoid fraud and scams so they can protect themselves and their families. As a Fraud Watch Network Volunteer, you will deliver the resources members of your community need because the Fraud Watch Network is:

• An Educator: Get real-time alerts about the latest scams, tips on how to spot them, and the inside scoop on how con artists think so you can outsmart them before they strike.
• A Watchdog: Our nationwide scam tracking map gives you access to a network of people who've spotted scams and the opportunity to pass along your own experiences, so together we can beat con artists at their own game.
• A Resource: Get connected to a real live person trained in how to avoid fraud and advise you if you or a loved one has been scammed by calling our fraud helpline or attending a forum in your community.
• Free for Everyone: Anyone, of any age, can access our resources at no cost.

Fraud Watch Network volunteers should have an interest in the issue of Fraud and Scams. Volunteer should have a personable and sensitive demeanor as conducting outreach in the field will result in the sharing of personal stories and accounts of serious incidents affecting members of the community. Volunteer must be willing to take a FWN training course and be comfortable with public speaking. Flexibility is also a must. Events are often at the request of partner agencies and community groups both in and out of regular business hours. Basic knowledge of Power Point and A/V (computer) usage is a must. This training is free, but pre-registration is required to attend!