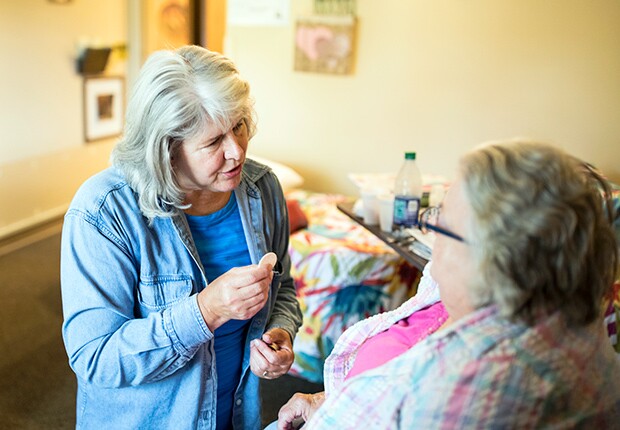 By Mary Van Beusekom

Suzanne Sudmeier, 64, and her husband, Richard, 72, plan to stay in their home on Lake Ida in Alexandria for as long as they can. A new program, part of concerted efforts by the community to become more age friendly, may help them do that.

Ready Ride, coordinated by the Rainbow Rider bus system, consists of volunteers taking people to appointments or errands for a sliding fee. The program augments the bus system, which doesn't operate in the evening and doesn't offer service in the outlying areas unless there are enough riders to pay for it.

"We're 10 miles out of town, so transportation could be an issue," said Sudmeier, a retired certified nurse midwife. "But I feel confident that, with some planning, we could access Ready Ride if we lost our ability to provide our own transportation."

Ready Ride was one result of a community survey to identify barriers to livability in Alexandria, said Dian Lopez, 73, an AARP volunteer active in Age-Friendly Alexandria.

"Transportation was one of the biggest issues they mentioned," she said.

Alexandria is one of four Minnesota cities, and 184 in the nation, enrolled in the AARP Network of Age-Friendly Communities. Minneapolis, Maple Grove and Northfield are the others. To achieve that designation, localities commit to goals that allow people to age in place.

AARP works with them on an initial assessment of needs, setting plans and implementing projects, said Will Phillips, AARP Minnesota state director.

"AARP brings a tremendous amount of research, tools and technical expertise," he said. "AARP can serve as a catalyst and assist communities in reaching out to older adults."

All residents benefit
Age-friendly efforts make a community more livable for all, Phillips said. "You're living in a community that has better health care and transportation and encourages active living."

David Unmacht, executive director of the League of Minnesota Cities, said that becoming age friendly helps a community keep its aging residents and attract others.

One challenge is paying for initiatives like public transportation. "The private and public sectors can work together to make this happen," Unmacht said.

Alexandria is putting other programs in place besides transportation. One involves working with Habitat for Humanity to make older residents' homes handicapped-accessible on a sliding-fee basis, Lopez said.

Another program connects hospitals and Elder Network, a local nonprofit volunteer group, to check in on just-released patients who live alone.

"They are trained to ask questions to find out if these people need extra help, but they do not impose on them in any way," Lopez said.

Most people indicate they want to live in their homes as long as they can, Phillips said. "But if you live in your own home and can't make it to the grocery store, it's simply not a livable place."

What livability looks like depends on the community, Phillips added. "The communities are driving this work, because they all have unique situations."

To learn more about Age-Friendly Communities, go to aarp.org/agefriendly, call 866-554-5381 or email aarpmn@aarp.org.

Mary Van Beusekom is a writer living in Excelsior, Minn.