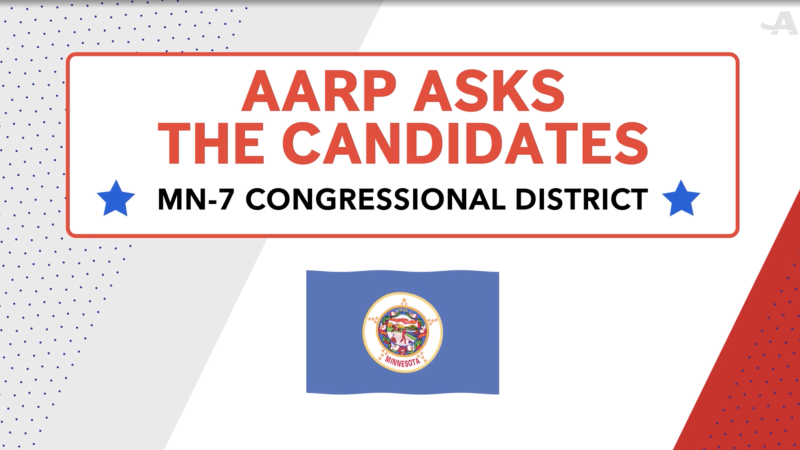 The contest for Minnesota's 7th Congressional District is expected to be tight this year, as Michelle Fischbach (R), the state's former lieutenant governor, challenges incumbent Rep. Collin Peterson (D).

To understand how they plan to protect Social Security and Medicare, stimulate the economy, lower prescription drug prices and ensure that Americans have access to affordable long-term care, AARP Minnesota asked each candidate to answer five key questions in 60-second videos. Here are their responses, with transcripts:

1. Social Security is a self-financed, off-budget program that half of all seniors rely on for more than 50 percent of their income. If elected, how will you ensure that current and future Social Security benefits are not cut as part of deficit reduction?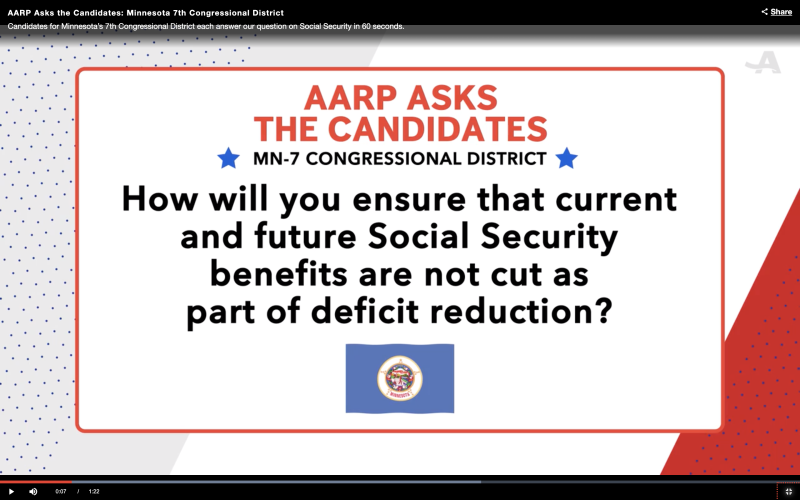 Social Security
Fischbach: First and foremost, current Social Security benefits cannot be cut. There's no way to pull the rug out from under seniors who depend on that income. When the Social Security and Medicare Board of Trustees released its official forecast in April 2019, they estimated that the Social Security trust fund will be unable to pay for full benefits by 2035. Any reform should be bipartisan, encourage work, continue to protect vulnerable populations and be grandfathered in over time so younger generations can adapt.

Peterson: The Social Security system is one of our nation's most successful programs, and its earned benefits have provided economic security for seniors, children, survivors and people with disabilities throughout our nation for decades. I will continue to protect Social Security. I am a cosponsor of the Social Security Act 2100, which is a comprehensive plan to expand Social Security and guarantee its funding for the long term.

2. On average, health care already accounts for $1 out of every $6 spent by seniors. If elected, how will you protect Medicare from benefit cuts, lower health care costs and ensure seniors continue receiving the affordable care they have earned?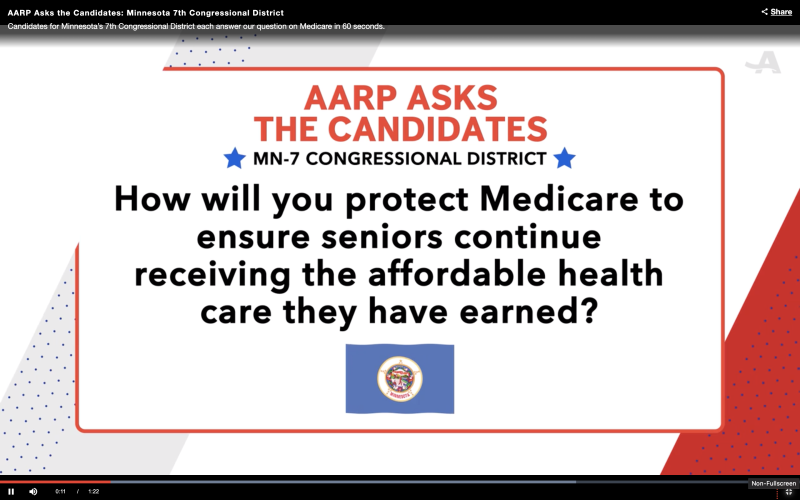 Medicare
Peterson: I worked with [former] Congressman Bill Thomas (R-Cali.) to sponsor the Medicare Prescription Drug Improvement and Modernization Act of 2003. This was the largest overhaul of Medicare in the program's 38 year history and also included improvements for critical-access hospitals. And I will continue to work to preserve and strengthen these programs. I also support efforts to crack down on Medicare fraud, and we need to make sure that benefits are affordable — including premiums and cost sharing — and ensure access to qualified health care providers.

Fischbach: If there was one benefit from the changes we made due to COVID, it was found in the solutions made by technology. When we couldn't meet in person, we turned to conference calls and online meetings like Zoom. Due to the COVID [pandemic], telehealth options like virtual doctor visits started to play a bigger role in health care. In addition, we need to take a hard look at waste created by duplicative and ineffective programs and always be on guard to root out fraud and abuse.

3. Unemployment during the coronavirus crisis reached the highest levels since the Great Depression, and older Americans have been disproportionately affected. If elected, how will you help Americans over the age of 50 recover economically from the effects of the coronavirus?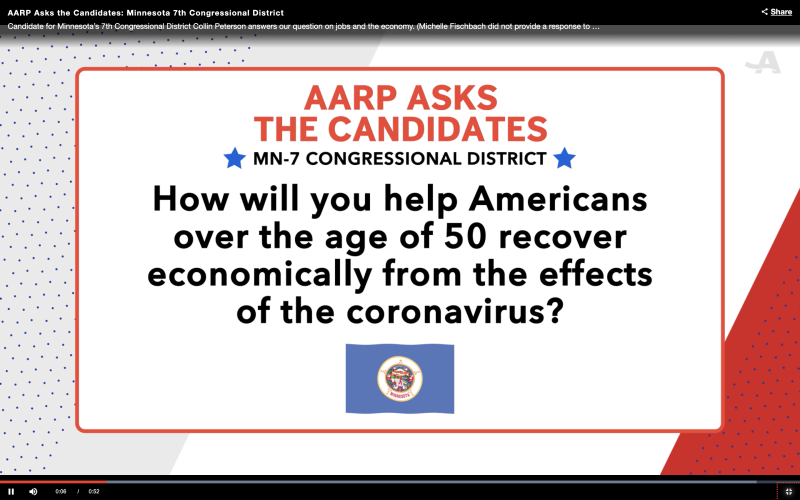 Jobs and the Economy
Peterson: I supported the HEROES [Health and Economic Recovery Omnibus Emergency Solutions] Act, which provides comprehensive relief for individuals, businesses and localities to keep as many people employed as possible. This legislation also has provisions to make sure workers are safe in returning to work. The best thing we can do to recover is contain the virus through testing, developing a vaccine and taking appropriate public health precautions.

Michelle Fischbach did not provide a response to this question.

4. Americans pay the highest prescription drug prices in the world. If elected, how will you cut prescription drug prices for all Americans?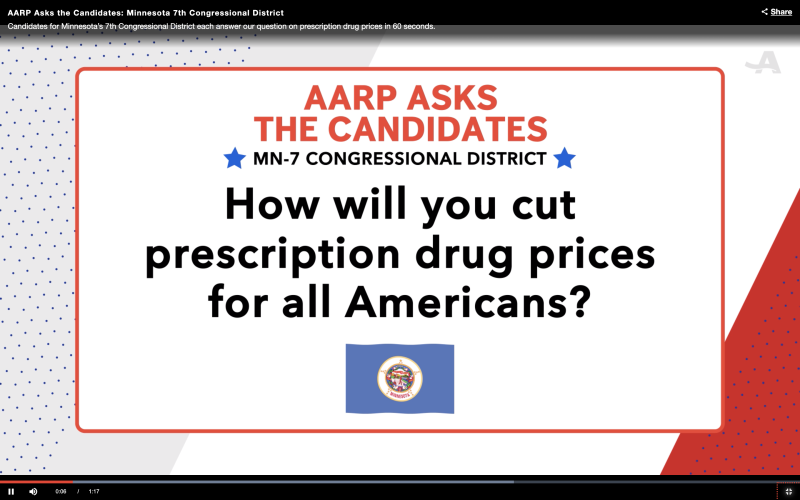 Prescription Drug Prices
Peterson: I supported the Elijah E. Cummings Lower Drug Costs Now Act, which would allow Medicare to negotiate drug prices directly with companies and make those lower prices available to privately insured Americans, as well. This bill would also limit out-of-pocket drug costs for Medicare recipients to $2,000 and prevent companies from charging Americans more than patients in other countries for the same drugs.

Fischbach: There are many good proposals for addressing the cost of prescription drugs. We can establish an out-of-pocket cap and allow seniors to spread their out-of-pocket expenses across the entire calendar year. Any discounts negotiated by pharmacy benefit managers should absolutely be passed along to the consumer. We can also stop "pay for delay," when drug manufacturers pay generic drug manufacturers to keep their lower cost alternatives out of pharmacies.

5. COVID-19 has caused death and suffering for too many older Americans who require long-term care. If elected, how will you make sure seniors can access safe and affordable long-term care at home and in nursing homes and assisted living facilities?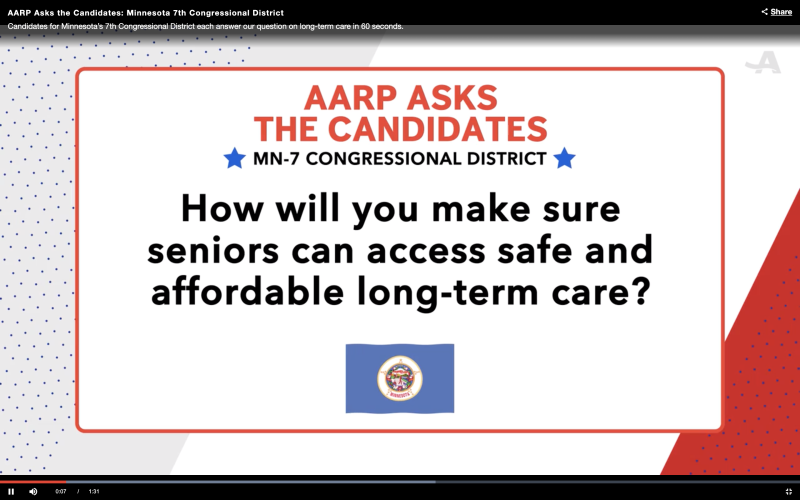 Long-Term Care
Fischbach: Thank you for including home-based care as a solution for older Minnesotans. Being at home is the best choice for our parents and grandparents, so I would support home visits covered by tax credits or covered by Medicare if it's medically related. Recently, the Trump administration announced a Provider Relief Fund that provides training and resources to nursing home staff and offers payments based on standards of care. This is a good example of an incentive-based public-private partnership that can help address the reimbursement gap [from] Medicaid for long-term care facilities.

Peterson: I will work to make sure Medicare covers COVID-related health care costs. During this pandemic, we lost too many seniors in nursing homes, so we need to have better testing, better public health measures and better PPE in those nursing homes. And we need to monitor the situation. Obviously, the best thing is if we can keep the seniors at home that are affected by COVID, so I support home-based health care as an option. It will make sure that seniors who remain in their homes can receive high-quality care and comfort when they have these problems.

Also of Interest

AARP is committed to ensuring voters have the information they need to cast their ballot this year. That is why we are publishing the AARP Asks the Candidates voter guide series, so candidates can share their plans on issues important to 50-plus voters.

AARP has a proud 34-year history of non-partisan voter engagement and does not endorse or oppose candidates or make contributions to political campaigns or candidates.