You're in a meeting with a coworker when her phone rings: Her elderly father has had a bad fall and is on the way to the emergency room. At the hospital, she discovers that her father will need to stay in the hospital. Four days later, her father is moved to a skilled rehabilitation care facility for several weeks of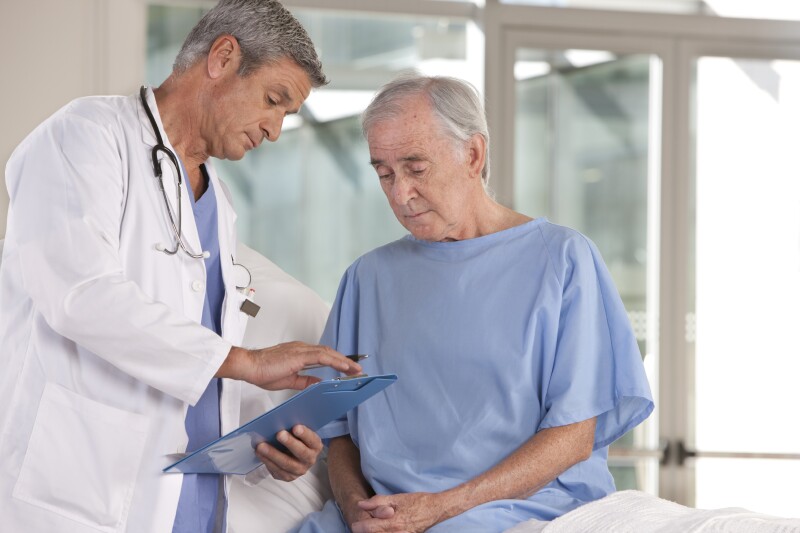 physical therapy. After therapy is complete and her father returns home, your coworker receives a bill for thousands of dollars for the entire cost of her father's stay in the rehabilitation facility.

Naturally, she's shocked, because Medicare normally covers the entire cost of the first 20 days of rehabilitation at a skilled care facility once an enrollee has spent three days admitted to the hospital as an inpatient. In this case, however, and without the family's knowledge, her father's first two days at the hospital were classified as "observation status" by the hospital.

A patient held under observation status is considered to be an outpatient, not one who has been admitted to a hospital as an inpatient. Since observation status doesn't count toward the Medicare requirement of three days as an admitted patient, the cost of weeks of skilled rehabilitation care for your coworker's father is now his or his family's responsibility, not Medicare's.

Widespread problem

This scenario happens frequently in Minnesota and nationwide, and is a rapidly growing problem for seniors. While observation status is primarily a problem for people on Medicare, it also can affect others whose insurance reimburses differently for outpatient care than for inpatient care.

There may be no difference between the room or care a patient receives whether they are admitted as an inpatient or classified as an outpatient by virtue of being under observation status. However, this difference in hospital status can add up to a big bill for the patient.

Fortunately, there is a solution, and that is to ask questions of a hospital while you or your loved one is staying in it. Read on to find out what you should ask your hospital, and why the need for questions arose.

What's causing this problem?

The root of the problem dates to 1965, when Medicare was created. Back then, the average length of time a senior spent in the hospital was 13 days, so meeting the three-day requirement was fairly easy and essentially a mere formality. However, as of 2010, the average length of stay was 5.4 days, with more than one-third of all seniors hospitalized for fewer than the required three days.

At the same time as lengths of stays are dropping, the use of observation status is skyrocketing. According to a recent AARP study, the number of people classified under observation status more than doubled between 2001 and 2009.

One driver of the trend for hospital patients to be classified under observation status may be that hospitals have begun being penalized if a patient is readmitted as an inpatient within 30 days of being discharged from the hospital. Hospitals' desire to avoid penalties may lead them to classify someone under observation status.

Effects on hospitals, patients

While studies have shown that the use of observation status can increase hospital efficiency, any increase in efficiency disappears once a patient has been under that status for 12 to 24 hours. Research by AARP found that between 2001 and 2009, there was a 250 percent increase nationwide in observation stays lasting 48 hours or longer.

The effect on patients is that every day a patient is held under observation status, i.e., as an outpatient, his or her care is covered by Medicare Part B instead of Part A. Unlike Part A, which covers all costs, Part B charges the patient out of pocket for copays and prescription drugs.

Steps to take

In order to protect themselves financially, a patient and his or her family should ask questions. Lots of questions:

How long will the hospital stay last?
Will there be a need for skilled care after the patient is discharged?
What is the patient's status? Is it "inpatient" or "observation"?
Patients and their families should ask these questions the first day they arrive and every day thereafter. That's because a hospital can change someone's status from one day to the next, during the same day, and even retroactively after a patient is initially admitted as an inpatient.

It is also important for patients and their families to understand they have the right to appeal the hospital's decision. If they know skilled care is needed and find out that a portion of their stay is being counted as observation, they can request that the status be changed to inpatient. If the patient or family doesn't feel comfortable making that request, they can enlist the patient's primary doctor, the hospital's patient advocate, or a hospital social worker to ask on the patient's behalf.

All patients have rights, but they must be willing to exercise them. Hospitals aren't required to disclose whether a patient was under inpatient or observation status until the patient is discharged, so asking questions up front is essential. It is much easier to appeal a hospital's decision while your loved one is still in the hospital than it is to appeal to Medicare after the bill arrives.

Long-term solution needed

While asking questions is important, the reality is that most families whose loved one is in the hospital are distracted by medical concerns and aren't going to be thinking about hospital status.

If we really want to protect patients, Medicare's outdated three-day rule should be eliminated. It was meant to be a basic threshold at a time when hospital stays were much longer. These days, when one-third of all Medicare hospital stays are less than three days, the rule has become a barrier to care. The result is that patients are either ill informed and wind up with large bills, or they choose to forego follow-up care they need but can't afford.

Short of ending the three-day rule, Medicare should stop making distinctions between observation and inpatient stays. If the type of care is the same for the patient, doctor, and hospital, it should be viewed the same by Medicare. Bipartisan legislation has been introduced in Congress (HR 1179/ S. 569) to count time spent in observation status toward Medicare's three-day requirement for coverage.

Protect yourself

The best option for patients and their families is to stay informed during a hospital stay and to ask questions. If you are in the hospital, ask how long your stay will be, what type of rehabilitation options are available to you, and who pays for them. And be sure to ask what your hospital status is—inpatient or observation—every day that you or a loved one is in the hospital.



This article first appeared in the Nov-Dec edition of Minnesota Health Care News.