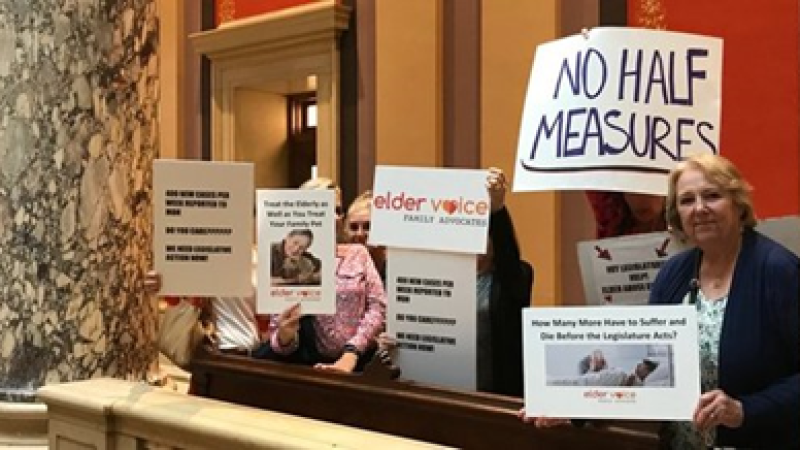 In 2019, the Minnesota Legislature passed the Elder Abuse and Prevention Act in response to the crisis that emerged on elder abuse. AARP and its members played a key role in advocating for the passage of the law that provides for both Assisted Living Licensure and comprehensive rights for residents and their families in Assisted Living and nursing homes.

While some provisions in the law are in place now, the Assisted Living Licensure and a number of the rights become effective August 1, 2021.


Assisted Living Licensure - Two Types
The new law establishes two types of licensure for assisted living facilities.

Assisted Living


One Accountable Entity
Licensed AL Director
Improved Survey Process
Physical Plant Standards


Assisted Living Plus Dementia Care


Enhanced Training and Other Requirements for Dementia Care Facilities
Resident and Family Rights
The new law also puts in place new rights for residents of assisted living facilities and the family members who care for them.

Staffing Requirements


Must meet the scheduled and reasonably foreseeable unscheduled needs of each resident
One or more persons awake and available 24/7. Must be physically present in a secured dementia care unit
Clinical Nurse Supervisor
Rights Prior to Move-In


Uniform Disclosure Guide
Pre-Assessment of Needs
Info on Bill of Rights
Discharge and Service Terminations Protections


Pre-Meeting Required
Appeal Process for Residents
The facility must provide a coordinated transfer if you are discharged

Protections Against Retaliation


Protections for residents, employees, and family members who file a complaint or speak up! The law defines advocacy, action, and actions considered retaliatory, along with enforcement provisions including:


The law identifies the types of advocacy actions that are protected from retaliation.
The list includes many common examples residents attempt to assert their rights in long-term care settings like threatening to file a complaint or actually making a complaint to the health department or the facility itself.
Includes protections for others advocating on the resident's behalf.

The law identifies the types of actions taken by a facility that may be considered retaliatory.

These actions include, but are not limited to, common ways facilities have retaliated in the past such as restricting access of a resident's visitors, reducing the resident's access to care or services, or terminating an agreement between the resident and the facility.

It creates a review process by which the health department may determine whether retaliation did or did not occur.
Right to Place a Camera


Effective January 2020
Resident or their representative must complete form and provide notice of placement
Exceptions: fear of retaliation; facility not responsive to complaints; a report has already been filed

"I'm Okay" Checks


A system of maintaining and documenting the safety of residents once daily or more frequently
Resources
The law also increased funding for resources that provide advocacy services for residents and their families (Ombudsman office) and a safe place to report suspected abuse or neglect (MAARC).

Ombudsman Office: If you need help understanding your rights in long-term care settings, contact 651-431-2555 or 1-800-675-3591.
Minnesota Adult Abuse Reporting Center (MAARC): If you need to report or suspect abuse or neglect, contact 844-880-1574.
Questions for AARP MN can be directed to Mary Jo George by emailing mgeorge@aarp.org or calling 866-554-5381. Stay up to date on other AARP MN Advocacy work by visiting the AARP Minnesota Advocacy Hub. View AARP MN's Assisted Living Handout here.