Congressional District Leaders will take on a variety of interesting projects in partnership with a fellow co-leader(s) to extend AARP's network throughout all areas of the state. We anticipate that Co-Leaders will devote an average of 20 hours a month to this work, although some months will be busier or slower than others. It is possible for a volunteer to be a Co-Lead while also doing another volunteer position with AARP such as being a Fraud Fighter, Life Reimagined Guide or Driver Safety Instructor.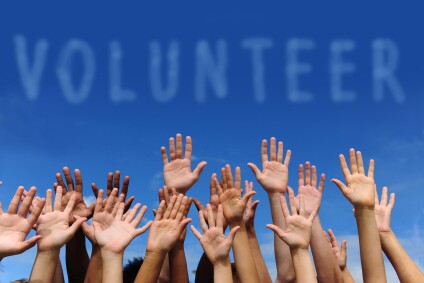 Who are Co-Leads and How Do They Accomplish Their Work?

Co-Leads have a passion for staying informed on issues facing older adults in our nation, in our state and in their own communities. They enjoy connecting with people and helping them find resources. Additionally, they enjoy managing tasks and projects and taking an idea from planning all the way to the implementation.

The way their work gets done will likely vary from person-to-person and district-to-district. Some may choose to delegate a majority of the work to their fellow volunteers, while others may enjoy taking a more hands-on role. Some may choose to divvy up responsibilities of the position based on their individual interests, while others may choose to divvy up the work based on regions within their district. No matter what, a majority of the work will be able to be done from the volunteer's own home and within their own community.

Contact us for more information about becoming a CD Co-Lead
What Do They Do?

Here is a sampling of the type of work each Co-Lead may be doing in a given year.

During Session (beginning of the year-late spring/early summer), they will be helping to get new laws made at the state capitol during the legislative session. While they may only come to the capitol to meet with their legislators once or twice during the session, they will still be very busy with session-related work at home. They will be communicating frequently with other volunteers throughout their district about issues. They will also organize efforts to write letters to the editor, distribute flyers, spread information at community meetings, and contact legislators at important times.
Out of Session (summer – winter), they will work to make sure AARP has a presence at a few key community events for the 50+ in their districts, such as senior resource fairs and county fairs. In addition to outreach work, they will also arrange to meet with Members of Congress and state legislators in their home districts to build relationships and inform them of AARP's priorities. Co-Leads will help to schedule these meetings and invite other volunteers from the representative's district to attend the meetings as well.
Throughout the year, Co-Leads will help out with AARP MN's volunteer recruitment and member engagement. They will work within their network to do things like distribute flyers, have conversations with people who would like to learn more about AARP, and help the state office get information about volunteering and more into the local media. Additionally, each co-lead may have a special project or an interest area in which he or she works on in more detail with staff.
How Can You Become a Co-Lead and What Training Will Be Involved?

Just let one of the staff know if you are interested. We are hoping to have at least one Co-Lead in place from each of the 8 districts by January 1, 2015, but ultimately, we would like to have as many as 3 leads in each district to help share the work and cover more area. Once we know you are interested, we will schedule time for a conversation to make sure that it will be a good fit for your interests and your schedule. We will have a special training session with Co-Leads in January and will support you and make any needed changes along the way as we explore this new role together.

Contact us for more information about becoming a CD Co-Lead