AARP is pleased to welcome Minnesota as the tenth state to join the AARP Network of Age-Friendly States and Communities. Membership is a commitment to engaging older residents in efforts to improve the state's infrastructure, systems and social environment. The network provides access to resources and information on age-friendly best practices being developed and implemented in other Age-Friendly states and over 600 communities across the nation.
Well-designed, livable communities promote wellbeing, independence and resilience, sustain economic growth, and make for happier, healthier residents. Governor Walz, the Minnesota Legislature and the Governor's Council on an Age-Friendly Minnesota have taken important action to ensure our state adapts to the needs of our aging population and changing world.
Cathy McLeer, State Director, AARP MN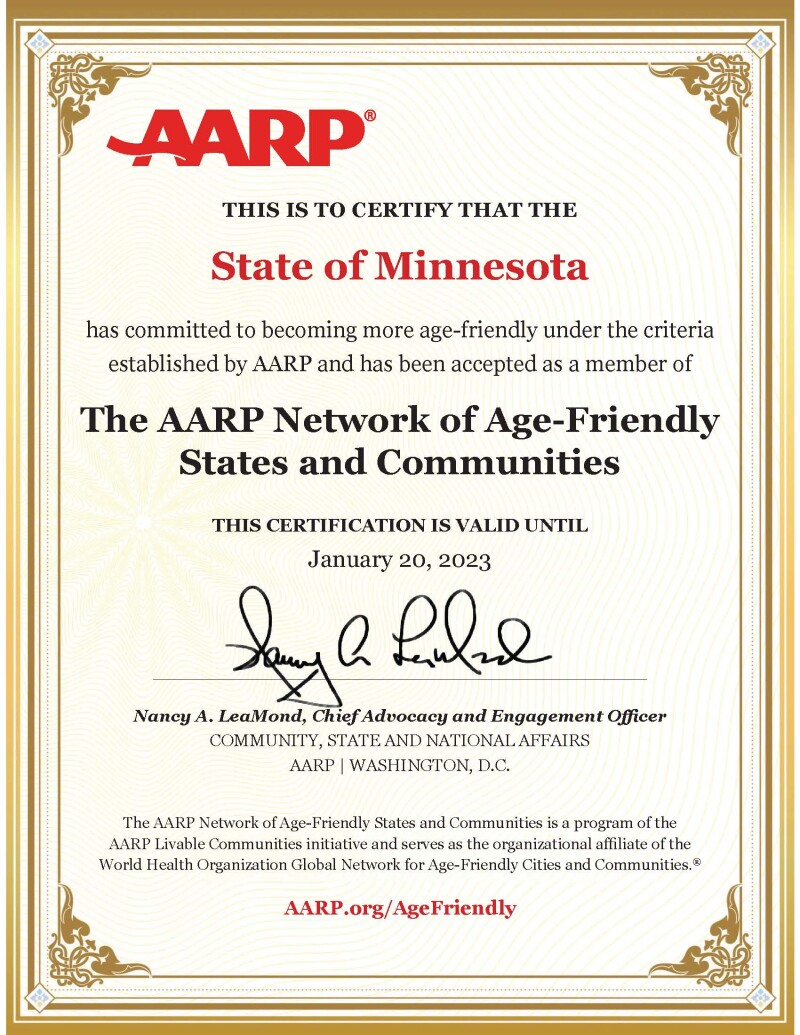 In the state's January 2022 application to the network, Governor Walz wrote: Simply put, our systems and communities were not designed for modern lifespans. It is time for that to change. Decision-makers must determine how various systems and supports, including financial security, housing, transportation, health care, employment, and social services, among others, can be strengthened and updated to ensure that Minnesotans have communities that meet their needs at every stage of life.



In 2019, Governor Walz issued Executive Order 19-38 to establish the Governor's Council on an Age-Friendly Minnesota charged with developing recommendations to his office and the legislature. Based on those recommendations, in 2021 the Minnesota Legislature reauthorized the Council to operate through the 2024 fiscal year, appropriated $3.9M for its operations and local Age-Friendly grants, and directed the state to join AARP's network.

Joining the Network today represents an important leadership milestone in ensuring that our state seizes the unprecedented opportunities we have with a growing aging demographic. Working together, we are well-positioned to make Minnesota a better place to grow older – not just for some, but for all.
Sherrie Pugh, Founding Chair of the Governor's Council for an Age-Friendly Minnesota
The Governor's Council is currently developing criteria for how local governments and nonprofits can apply for the state's Age-Friendly grants and technical assistance, expected to be available in July 2022. Thirteen Minnesota communities joined AARP's network prior to the state's enrollment: Alexandria, Brooklyn Park, Duluth, Hennepin County, Lake County, Maple Grove, Minneapolis, Northfield, Oakdale, Olmsted County, Princeton, St. Cloud and Wyoming. The AARP Network of Age-Friendly Communities targets improvements in eight domains that influence the health and quality of life for all as we age. Communities participating in the AARP Network of Age-Friendly Communities commit to improving their livability through an assessment of needs, development of an action plan, implementation of new projects and programs, and ongoing assessment – all with the involvement of older residents. The eight areas of focus for the age-friendly process are:

Outdoor spaces and buildings
Transportation
Housing
Social participation
Respect and social inclusion
Civic participation and employment
Communication and information
Community support and health services

Based on input from community members, livability projects are planned, implemented, and progress assessed in three phases over a five-year period, with continued assessment and improvement cycles. The Governor's Council on an Age-Friendly Minnesota meets on a bi-monthly basis via video conference and its meetings are open to the public, posted at mn.gov/dhs/age-friendlymn. Learn more about AARP's Network of Age-Friendly States and Communities statewide and nationwide at aarp.org/agefriendly.