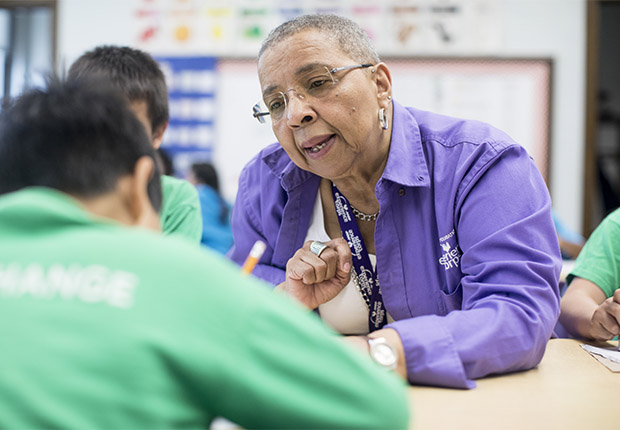 By Pamela Schmid

When it comes to helping kids read, Shirley Dolland has an arsenal at her disposal: ballerina and car stickers, a giant green die for word bingo, even books she made herself about trips to the zoo and ice cream shop.

"The challenge is trying to make things interesting for them," said Dolland, 70, of Bloomington, a retired corporate manager who spends three afternoons a week tutoring kindergartners and first-graders at Hiawatha Leadership Academy's Northrop campus in Minneapolis. "It's certainly not the way it was when I was a kid, where you learned a word by writing it 10 times."

Dolland and her husband, Winston, are among a cadre of AARP Experience Corps volunteers who worked with more than 800 students in Minneapolis and St. Paul this past school year, helping them reach grade-level reading proficiency.

The program has produced impressive results. Teachers reported that 75 percent of students who were below grade level at the beginning of the 2015-16 school year had improved their overall reading and literacy skills by at least one grade level by year's end. They also reported improved student attendance and higher academic engagement.

Affiliated with AARP since 2012, Experience Corps was hosted by Volunteers of America Minnesota-Wisconsin from 1995 until 2015.

Starting in the just-completed school year, with the backing of AARP Minnesota and AARP Foundation, it was reborn as an independent nonprofit program.

Since its rebirth, Experience Corps Twin Cities has thrived. About 110 volunteers—all 50 or older—worked in 20 schools and learning centers, compared to 87 tutors in 15 schools last year.

Hiawatha Academy, a charter school, came on board last fall after 25 students at its Northrop campus were identified as falling seriously behind in reading. Since four Experience Corps tutors began spending a combined 40 hours a week there, nine of those students have reached grade level, said Nick Baker, Hiawatha's volunteer coordinator.

Experience Corps is also expanding beyond its core mission to focus on mentoring and bringing generations together. Tutors are asked to build rapport with students while working on literacy skills.

That can mean passing around and discussing seashells, performing magic tricks or—as is the case for volunteer Elaine Dunbar, 70—eating Friday lunch with the third-graders she tutors at Obama Elementary School in St. Paul.

"It helps them stay focused," said Dunbar, "because they enjoy the time we have together at lunch."

When a pre-K student Dunbar was tutoring said he loved The Gruffalo, a picture book by Julia Donaldson, she invited him and others to help create sequels in their own words. They then illustrated the stories using handmade puppets made from poster board and paint-stirring sticks.

Similarly, Dolland has created books with her computer, starring the first-graders she tutors. "They loved it," she said. "One said, 'I brought it home and read it to my mom. She liked it, too.' "

Paul Simone, program manager for Experience Corps Twin Cities, encourages such creativity, saying it's vital for Experience Corps to leverage its volunteers' ideas and skills.

"Their greatest gift is experience," he said. "If you don't use that, you're wasting them."

Experience Corps volunteers must be 50 or older, have a high school or equivalency diploma, be fluent in English and undergo a background check.

To volunteer for Experience Corps, contact Erin Simon at esimon@expcorpsmn.org or call 612-708-5933.

Pamela Schmid is a writer living in St. Paul.