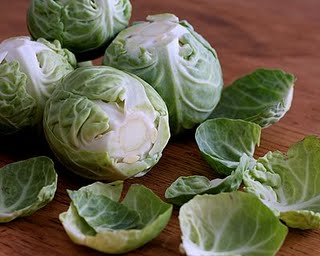 Hello again from Lenise. I wanted to share something special with you today...

Becoming more health-conscious and trying to eat the recommended daily allowances of 3 to 5 servings of vegetables and 2 to 3 servings of fruits per day can be pretty cumbersome. One smart way to achieve this is to juice the fruit and soup the veggies.

Brussels sprouts (yuck, who eats those?) are actually super healthy. At just 8 calories per serving, they're low in cholesterol and saturated fat while being a good nutritional source of Thiamin, Riboflavin, Iron, Magnesium, Phosphorus and Copper, high Dietary Fiber, Vitamin A, Vitamin C, Vitamin K, Vitamin B6, Potassium - and it is packed with Manganese. Looking a little yummier now, aren't they? So let's go ahead and make some soup!

Ingredients:

Brussels sprouts (Select sprouts that show limited signs of wilting; if there are some brown leaves on the sprouts, just peels them off)
Green peppers
Sliced mushrooms
Butter
Purified water
Onion powder, garlic powder and/or additional seasonings of your choice
Optional: tomato-based pasta sauce (Many tomato pasta sauces are sold in the glass jar with your choice of meat, mushroom, or roasted peppers. Pick whichever floats your boat.)


Instructions:



Wash the the vegetables under lukewarm to cold water. Cut a fine slither (slit) on the root of the Brussels sprouts so you can get the freshest taste from them after they've cooked.

Place the sprouts along with sliced green peppers and sliced mushrooms into a skillet simmering with butter (or a butter substitute).

In a separate sauce pan, add two cups of purified water seasoned with the powders and bring to a simmer; which becomes a broth.

Once you are able to stick a fork into the vegetables (you want them soft but slightly firm to retain the vitamins and the juice), pour your vegetables over into the sauce pan of simmering seasoned broth.

If you want to keep this soup broth-based, then your soup is ready to serve. Or, if you prefer a vegetable base (which is how I make mine), then add your favorite tomato pasta sauce to the simmering pot with the vegetables and continue to simmer until the tomato sauce begins to boil.

Once your sauce has boiled, remove from heat, and your Brussels sprout soup is ready to serve! Enjoy!