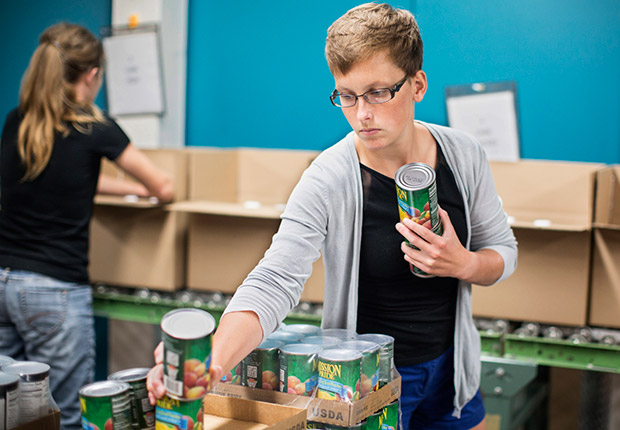 By Mary Van Beusekom

During her year working for AARP Minnesota, Lynne McMullen learned that hunger can appear in unexpected ways: "Senior hunger is often an invisible problem. Hunger can look like obesity because you don't have the money to eat healthy food."

McMullen joined the AARP Foundation Drive to End Hunger ( endseniorhunger.aarp.org) as part of the national Anti-Hunger and Opportunity Corps. Her task as an outreach coordinator was to identify ways to reach Minnesotans who may go hungry but are reluctant to seek assistance.

AARP Minnesota had been encouraging people 50 and older to enroll in the Supplemental Nutrition Assistance Program (SNAP), formerly known as food stamps. "But we didn't have the capacity to get deeper into it," said AARP Minnesota spokesman Seth Boffeli. When AARP Foundation agreed to bring in McMullen, AARP Minnesota was better able to tackle hunger.

More than 48,000 eligible Minnesotans 65 and older aren't taking advantage of the nutrition program, according to the Minnesota Department of Human Services.

McMullen, 23, who grew up in Waconia, near Minneapolis, said she was motivated to do this kind of work because "access to basic necessities like nutritious food is a fundamental human right."

Overcoming the stigma
Jay Haapala, AARP Minnesota outreach director, said older people tend to be more resistant than others about accepting help. "Many eligible people apparently don't know about the SNAP program, don't know that they're eligible, or are reluctant to enroll because of the stigma associated with nutrition assistance," he said.

By the time McMullen's VISTA (Volunteers in Service to America) year ended in June, she had helped train at least 200 volunteers to help enroll people: "I reached out to volunteers who had other roles with seniors, because people are more likely to apply for SNAP if they are referred to the program by someone they trust."

She also realized that people who use the AARP Foundation Tax-Aide program ( aarp.org/money/taxes/aarp_taxaide) might be eligible, so she created a program to help them enroll while their taxes were being done. At least 50 people signed up this way, she said.

One woman McMullen encountered at a Tax-Aide site was struggling to support herself and her disabled grandchild on less than $1,000 a month in Social Security. "We were able to refer her to SNAP, the Senior Farmers Market Nutrition Program, a local food shelf and resources for caregivers," McMullen said. "She is now helping her daughter, who is homeless, complete an application for SNAP."

Because rules and eligibility for SNAP can be confusing, McMullen worked with Second Harvest Heartland to identify people who needed help signing up. AARP Minnesota teamed up with Second Harvest to distribute grocery stores' imperfect produce.

McMullen also worked with Hunger Solutions Minnesota to launch the SNAP Rx website in May, so physicians who identify patients in need can refer them to the Minnesota Food HelpLine. Volunteers also have plans to give fruit and vegetables to older patients at medical clinics.

In August, AARP Minnesota volunteers plan to be at the State Fair, providing information and referrals to SNAP.

With a new VISTA volunteer arriving at AARP this summer, a goal for 2015 is to track new SNAP applications to measure the impact of each program, Haapala said.

To apply for SNAP, or to find out if you qualify, call the state Food HelpLine at 888-711-1151 toll-free.

Mary Van Beusekom is a writer living in Excelsior, Minn.