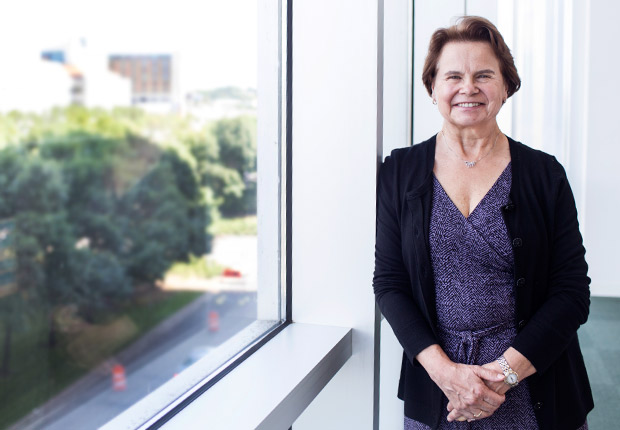 By Pamela Schmid

With voters 50 or older playing a crucial role in November's gubernatorial and legislative races, AARP Minnesota will make sure candidates stake out their positions on key issues to its members.

"The senior vote is going to be decisive in the outcomes of the statewide races in Minnesota," said Larry Jacobs, director of the University of Minnesota's Center for the Study of Politics and Governance. "We'll see a concerted effort by both political parties to target seniors, because they're the ones who will show up."

Of the state's 3.1 million registered voters, about half—nearly 1.6 million—are 50 or older, according to the secretary of state's office.

AARP does not endorse candidates, contribute to campaigns or favor political parties.

AARP Minnesota is informing its more than 660,000 members about where candidates stand on top issues with a voter guide, at aarp.org/yourvote, for congressional contests and the governor's race. Gov. Mark Dayton (D), 67, is seeking reelection to a second term. He faces a challenge from Jeff Johnson (R), 47, a Hennepin County commissioner who won his party's primary Aug. 12.

The organization will also hold town hall forums on one of its key concerns—financial security.

The typical U.S. household nearing retirement has only about $3,000 in savings. In Minnesota, 873,000 workers lack access to a retirement account at work, and 24 percent of the state's older residents rely on Social Security as their sole source of income.

"A whole generation of workers don't have pensions as previous generations did," said Will Phillips, AARP Minnesota state director. "We want all Minnesotans to have a secure financial future. It's critically important."

According to an AARP survey conducted this year, 68 percent of Minnesota voters 45 or older favor the creation of a state-run plan allowing residents to save for retirement. AARP Minnesota backs giving workers access to workplace savings accounts. Earlier this year, Minnesota enacted legislation mandating a study of the issue; it is one of several states to do so.

Support for caregivers

AARP also wants to know how candidates will support unpaid family caregivers. In 2009, almost 1 million state residents provided care for an older adult relative or friend, according to an AARP Public Policy Institute report. This unpaid care was worth $8.2 billion a year.

AARP has pushed for legislation that would give family caregivers support and training to help their loved ones continue to live at home.

"There are countless unsung heroes out there … caring for family members and loved ones and helping them live with independence in their homes and communities," Phillips said.

Education plays a crucial role in helping caregivers feel less overwhelmed, said Jean Wood, executive director of the Minnesota Board on Aging, which has supported AARP Minnesota's efforts to help caregivers.

"It's 24 hours a day, seven days a week, and often you don't know what's going to come next," Wood said. One way to lower stress is "just knowing ... what's going to come next or that you can find services that might help you."

Candidates will also face questions about phone service. Because older Minnesotans tend to rely more heavily on landlines as their link to the outside world, advances in technology should not come at the expense of less access to reliable phone service, Phillips said.

In addition, AARP will ask candidates to strengthen and build upon laws that protect older residents from financial exploitation and abuse.

Older Minnesotans historically play an outsize role in deciding midterm elections, according to Jacobs. "I think a lot of them will be making decisions on whether the incumbents are delivering for them or not," he added.

Pamela Schmid is a writer living in St. Paul.