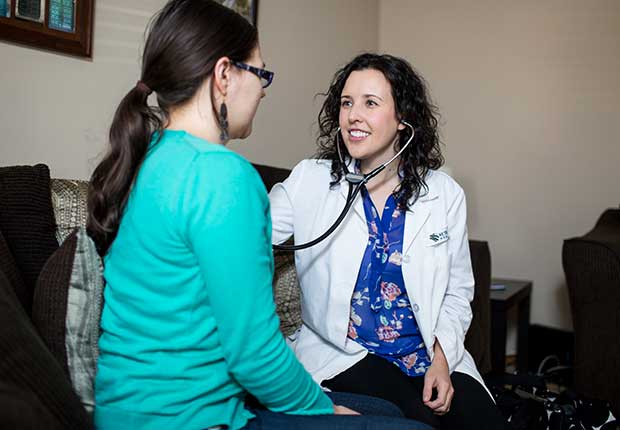 By Mary Van Beusekom

Until Jan. 1, Elizabeth Chidothe, a family nurse practitioner in Minneapolis, had to work under contract to a physician she rarely saw. Now, thanks to a new state law, she is free to practice and prescribe on her own.

"The law has essentially reflected what was already in practice, where we weren't in need of this contract," she said.
The written physician agreements, nurses say, were a barrier to their practice because they were tethered to a particular doctor.

Mary Chesney, director of the University of Minnesota Doctor of Nursing Practice program and a pediatric nurse practitioner, said the new law will increase access in rural or underserved areas because nurses will no longer have to worry about their collaborating physician retiring, moving or dying.

"It's difficult to ask APRNs [advanced practice registered nurses] to come to those areas when your practice is tied to another person's practice," she said. "If they [the doctors] decide to leave, you're left hanging."

That's what happened to Beth Good, a psychiatric APRN in Mora. Nine years ago, the psychiatrist she worked with left the practice, so Good could not see patients until, after contacting 15 physicians, she found a replacement two months later.

"[The physicians'] employers would not allow outside contracts, or they were too stressed with current obligations," she said. "During the two months ... I was unable to order or refill psychiatric medications for my patients; thus, the patients were referred to their primary care provider or went without medication," she said.

Advanced practice registered nurses, which include nurse practitioners, nurse-midwives, nurse anesthetists and clinical nurse specialists, have at least a master's degree and two to three years of advanced education. There are about 6,200 APRNs licensed in the state, according to the Minnesota Board of Nursing.

Rep. Dan Schoen (DFL-St. Paul Park), coauthor of the law, said the scope of APRNs' work is much broader than many people appreciate. "They're not just there to look at a wound on the foot," he said. "They provide holistic care."

AARP honored Schoen and the law's other coauthor, Sen. Kathy Sheran (DFL-Mankato), for their championship of the bill by placing them on its honorary national "Capitol Caregivers" list.

Care still collaborative
The law also will increase access to such in-demand APRN services as mental health and primary care, said Renee Dahring, president of the Minnesota APRN Coalition and a family nurse practitioner. "It's all about having the ability to do what we were trained to do and to have the ability to take care of our patients the way we know we need to take care of them, without constraints or barriers," she said.

Mary Jo George, AARP Minnesota associate state director for advocacy, said the law removed barriers that often delayed care and placed added stress on family caregivers.

Dahring emphasized that the law won't change clinical care or mean that advanced practice nurses no longer collaborate with physicians. "We like to say we changed the paperwork, not our practice," she said. "We've always collaborated with our colleagues; we didn't need a piece of paper to do that."

Chidothe said, if anything, the law has made practice even more teamwork-oriented, where it used to be hierarchical. "It's paved the way for us to have a better relationship with our physician coworkers," she said. "When that relationship is a teamwork effort, and not a responsive approach to the physician, I think the patient benefits."

Doctors opposed the legislation last year, saying they are better able to provide medical services. The Minnesota Medical Association declined to comment for this story.

The law may also increase the number of APRNs in the state, Dahring said. "Perhaps it will inspire people in rural areas to become advanced practice nurses, knowing that when they're done, they'll be able to remain in their community," she said. "We need everybody to meet the demands of care."

Mary Van Beusekom is a writer living in Excelsior.