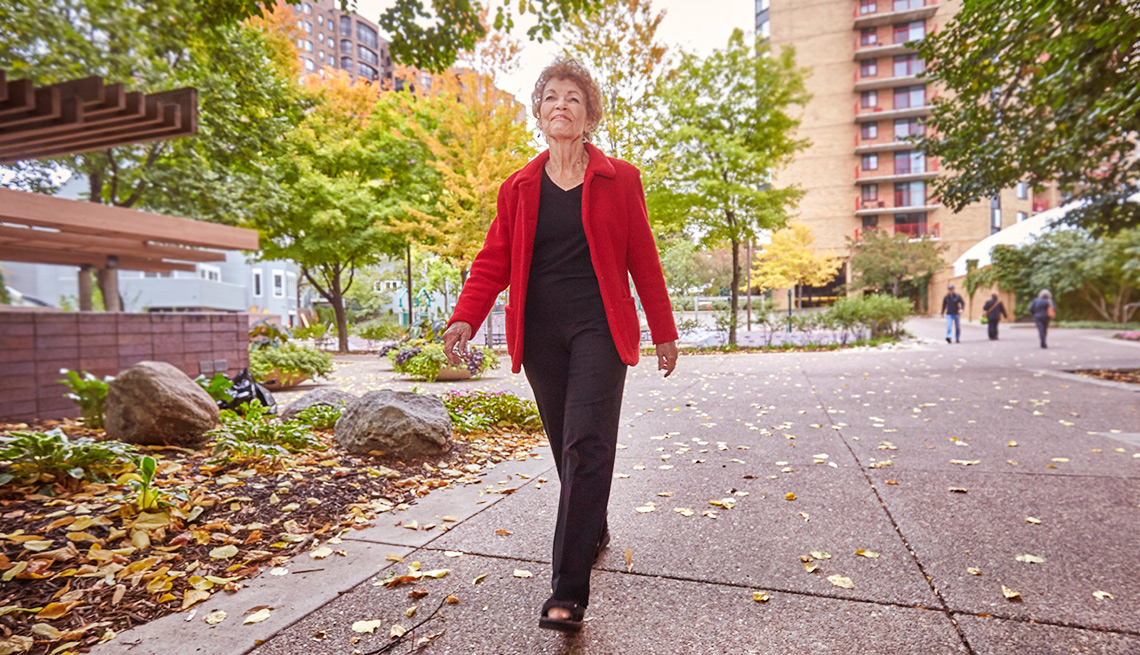 By Pamela Schmid

Just outside her high-rise condo in downtown Minneapolis, Jean Greener has her pick of walking options. A pedestrian greenway winds west to Loring Park, with a lake and fountain. Heading east leads to Nicollet Mall, a walkable 12-block stretch of restaurants, cafes and businesses. And in the winter, an expansive network of indoor skyways is available just across the street.

"You can be real urban, or you can play with the squirrels," said Greener, 73, who tries to walk about three miles a day. "Walkability is obviously important. It helps you stay healthy. It gets you places. It's just a way of relaxation and enjoying yourself."

Minneapolis has long been known for its sprawling network of parks, bike paths and walkways. That's just one reason that this year it became Minnesota's first city to join the AARP Network of Age-Friendly Communities. Such communities must commit to improving outdoor space, transportation and housing.

When cities become more age-friendly, everyone wins, said Christina Kendrick, senior community specialist for Minneapolis. Slowing down a crosswalk timer, for example, improves traffic control and helps parents pushing strollers, as well as older residents using walkers.

"If you plan for the greatest needs and accessibility," she said, "you will more than likely benefit the greater good."

A recent AARP "livability survey" found that communities with high ratings boost property values and economic activity. It also showed that people of all ages value the same things, said Will Phillips, AARP Minnesota state director. "They want transportation, affordable housing, the ability to bike and walk places—things that we believe make a community more livable."

City leaders have worked for decades on accommodating an aging population, said Greener, a longtime member of the Minneapolis Advisory Committee on Aging. In 2001, the committee backed construction of a 2,000-square-foot senior center in the heart of downtown that offers classes and social activities.

'A comfortable place'
"It's a comfortable place for people to go," said Greener, who recently retired as director of community relations for Presbyterian Homes & Services.

In 2013, the city started to plan "Minneapolis for a Lifetime," an ambitious strategy of public-private partnerships and collaboration with community groups.

At listening sessions and in surveys, older residents laid out their biggest concerns: better delivery of city services, housing, transportation, and health and wellness. They also wanted improved access to shopping and grocery stores, Kendrick said.

Although housing presents the biggest challenge to livability, it's also an area in which the city has made the greatest strides, she said. Minneapolis recently began offering developers incentives to construct subsidized senior housing and earmarking money to retrofit older homes so aging residents can stay put.

An ordinance adopted last year provides more flexible rules for renovations or additions to residences.

"These units are great for multigenerational families, so they can increase density while keeping people in their homes," Kendrick said.

Parks cover about 15 percent of the city. More than 80 percent of Minneapolis streets have sidewalks on both sides. An annual city program replaces defective sidewalks and curb ramps. And more than 200 miles of bikeways crisscross the city; there are plans to add another 30 miles by 2020.

Sidewalks are a bigger issue in outlying suburbs. Dakota County's Communities for a Lifetime initiative has begun promoting better sidewalk policies to encourage communities to become more walkable. It's also working to improve transportation services and programs to benefit all residents.

Communities committed to becoming more age-friendly can use AARP as a resource for technical assistance and for connecting with other communities working toward similar goals, Phillips said.

And residents can check out AARP's Livability Index ( aarp.org/livabilityindex), which scores communities across a wide variety of categories.

Pamela Schmid is a writer living in St. Paul.