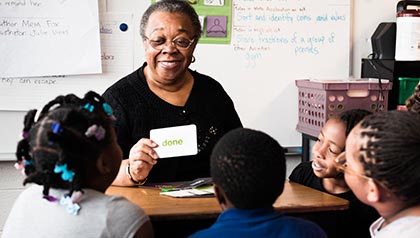 The Minnesota state office is seeking volunteers for AARP Experience Corps, which engages adults age 50-plus in efforts to improve literacy among schoolchildren in grades K-3.

Volunteers work with students individually or in small groups under a classroom teacher's supervision. In the 2012-13 school year, 73 volunteers spent nearly 23,000 hours tutoring about 700 students in 11 schools in Minneapolis/St. Paul. When asked about the tutors' influence on the classroom, most teachers (92 percent) reported a positive effect on students' performance.

Volunteers must be 50 or older, have a high school diploma or its equivalent, be fluent in English and undergo a background check. For more information, go to aarp.org/experiencecorps. To volunteer, call 612-708-5933.