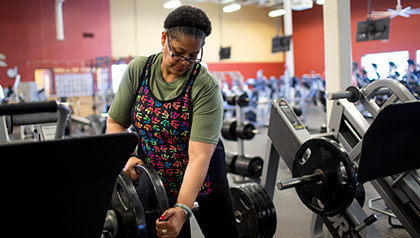 By Jason L. Young

A little more than a year after her retirement, Lor­etta M. Davis has found a new calling—as an ambassador for physical fitness.

It isn't an official title, but she takes it seriously. While Davis, 60, who owned a travel agency, has always tried to stay fit, she never had much interest in competition until about two years ago. Now, she said, she can't get enough and would like her friends to join her.

"I am not ashamed about being 60," she said. "Sixty is the new 40. I thought it would be exciting to go out and do it. I wanted to be part of the healthy-looking group."

Davis plans to compete in her second St. Louis Senior Olympics this month and has joined with AARP Missouri to recruit and train 30 to 40 people age 50 and older for the event.

It's one of two major efforts the state organization is doing for the games. AARP is encouraging individuals 50-plus in St. Louis and beyond to join Team AARP.

The St. Louis Senior Olympics is set for May 22-27 and features over 90 events open to those at least 50 years old. Most of the competitions will be held at the St. Louis Jewish Community Center in Creve Coeur.

AARP sponsors training

Davis' fitness initiative hasn't spread through her St. Louis neighborhood the way she had wanted, but she's hopeful a partnership with the YMCA will encourage others to get involved. AARP has agreed to pay for the training and entry fees to the games for the first 40 individuals who register for Team AARP.

"I'm all about living a quality of life," Davis said. "There's a need for the African American community to get out there and just move."

Sheila Holm, AARP Missouri associate state director for community outreach, noticed a lack of minority participation in past Senior Olympics. That prompted her to work with local churches and other neighborhood groups to spread the word about the initiative.

Those who do sign up for the program will be tracked from their first training session through their final event. Holm plans to use their stories to encourage others to join in the future.

"We're trying to get people energized and excited about it," she said. "The best way is for people to model that behavior. The more people we can get involved in it, the better quality of life [they] will have as they begin the latter part of their lives."

Those who sign up for Team AARP will be invited to meet their teammates about three weeks before the games. They'll also receive an AARP T-shirt and have a chance to reconnect at the conclusion of the games.

AARP Missouri also is working to bring the Walgreens Way to Well Health Tour with AARP to the event. The program provides health education and 10 free tests, including cholesterol and glucose levels, blood pressure and a comprehensive weight assessment. Participants receive a free one-year AARP membership.

Davis said she favors whatever it takes to get people her age to be more active.
She plans to compete in the 50- and 100-meter runs, plus the leg press competition. After doing her first Senior Olympics without any training, she said, hooking up with AARP should prove beneficial.

"I'm expecting some great results," she said.

For more information about Team AARP at the St. Louis Senior Olympics, email aarpmo@aarp.org.

Jason L. Young is a writer from O'Fallon, Mo.