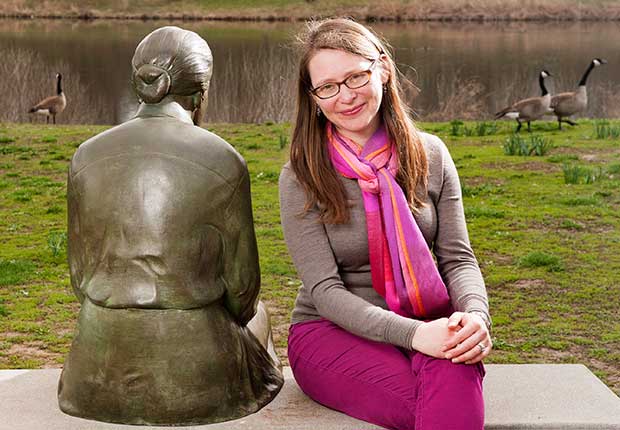 By Ralph Richberg

A bronze statue of civic leader and businesswoman Anne Case Drummond sitting on a bench overlooks the lake that bears her name in the Springfield Botanical Gardens at Nathanael Greene/Close Memorial Park. What is she holding in her lap?

That's one of 26 questions in the Passport to Healthy Living, a collaborative project of AARP Missouri, the city of Springfield, the Springfield-Greene County Park Board, the Springfield-Greene County Library District and the Community Partnership of the Ozarks. The booklet-size passports are designed to encourage residents to better know their community, learn new things, get exercise and enjoy themselves this summer.

"It's like a scavenger hunt," said R. Diane Hall, AARP Missouri associate state director for community outreach. "We envision this to be a fun, multigenerational activity during the summer which encourages people to explore the many resources for healthy activity that are available in Springfield."

Passports will be available starting May 26 at local libraries, family centers (which have tracks, gyms and swimming pools), Mediacom Ice Park and Springfield-Greene County Botanical Center. To answer the passport's questions, people will have to visit those and other locations. Many of the questions cannot be answered just by exploring the Internet.

Everyone who turns in a passport by Aug. 8 will receive a small gift. Those who answer at least half the questions correctly (most are easy if you go to the location) will be entered into a drawing, by age category, for prizes such as passes to local attractions and the grand prize, an AARP RealPad tablet.

The creator of the little booklets, Danny Dye, art director for the Springfield-Greene County Library District, designed them to look like international travel passports. The questions are aimed at stimulating physical health, through family-friendly activities such as hiking in area parks, and brain health, by prompting residents to learn new things, such as the basics behind how a 3-D printer works.

"We love that the library district is involved, because not only does it provide 'brain food,' but it has many programs for all ages involving physical activity and off-site programs at some of Springfield's resources, such as the Ice Park and Springfield Conservation Nature Center," said Kathleen O'Dell, community relations director for the library district.

Learn about resources
Participants in the Passport to Healthy Living will also learn more about the resources to promote healthy living that are offered by the Chesterfield, Dan Kinney and Doling family centers.

"Springfield is awesome and has so many great resources that not everyone knows about. It's a great community for physical activity on your own or with your family," Hall said.

Jenny Fillmer Edwards, public information administrator for the park board, said she hopes the passports will encourage people to "get out of their cars and visit places with their families that they may not have visited or may not know everything about."

Danell Vaughan, program director for caring for the Community Partnership of the Ozarks, said her organization works closely with Springfield residents and helped identify specific healthy-living activities in city neighborhoods that could be included in the passport.

Passports will be available at: the Library Center, 4653 S. Campbell Ave.; Midtown Carnegie Branch Library, 397 E. Central St.; the Library Station, 2535 N. Kansas Expressway; Chesterfield Family Center, 2511 W. Republic Road; Dan Kinney Family Center, 2701 S. Blackman Road; Doling Family Center, 301 E. Talmage St.; Mediacom Ice Park, 635 E. Trafficway St.; Springfield-Greene County Botanical Center, 2400 S. Scenic Ave.; and WIC, 440 E. Tampa Street.

For more information about the Passport to Healthy Living, call 866-389-5627 toll-free.
Ralph Richberg is a writer living in Blue Springs, Mo.