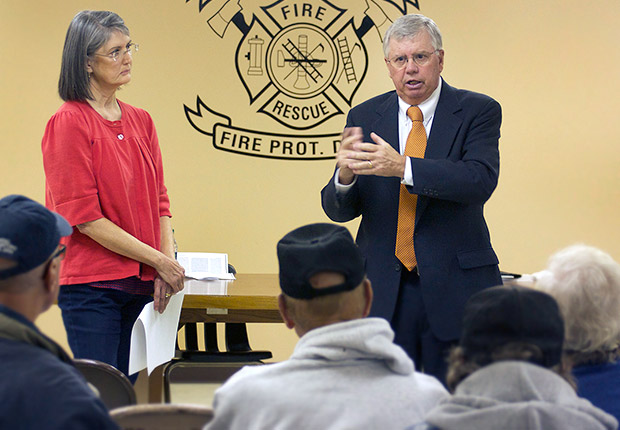 By Tim Poor

When Ron Sergent taught American government and history, his greatest satisfaction came from watching students discover new things.

"I like to see the light bulbs come on," he said.

Sergent, 67, retired from the Columbia public schools 15 years ago, but he's getting a similar experience now as a volunteer speaker for AARP Missouri. He is one of more than 30 volunteers around the state who speak to groups on subjects as diverse as health coverage, consumer fraud and aging.

Soon, he and the other speakers will be talking about two new topics: planning for retirement and financial security. The programs are primarily for people over 50, but also for younger people who are perhaps just starting to think about their years after work.

"My feeling is that we have a vast number of people at the edge of what we call traditional retirement who are not in any financial condition to retire," Sergent said. "This is a very important topic."

The first program, "10 Steps to Retirement," will provide useful advice on how to define one's personal needs in retirement, taking stock of assets and health, figuring out when to claim Social Security, creating a retirement budget and deciding whether you need or want to work after "retirement."

The second program, "Get Ready for Your Future," suggests ways to plan for your financial future through savings, retirement calculators, credit-and-debt analysis and healthy spending habits.

Some listeners may be surprised at what they learn. Deciding when to take Social Security, for example, can be complicated, with several factors affecting that calculation.

Sergent is quick to caution that he won't be giving specific individualized advice, but providing a way for people to think about their futures. "I'm not here to tell you how to plan, but I'm here to tell you that you may have to plan," he said. "So you at least know what to ask."

Seeking more speakers
AARP Missouri needs more volunteers, particularly in rural areas and St. Louis. If you are interested, send an email to aarpmo@aarp.org or call 866-389-5627 toll-free. After an initial interview, speakers who are selected will be trained before going into the community, said Anita Parran, associate state director for public affairs.

"We're always looking for new speakers," said Linda Covilli, 68, volunteer presentation coordinator for the St. Louis area. Speakers visit senior fairs, health fairs, churches, schools and civic organizations. "We do get a lot of repeat business," she said. "It's very well received."

Marvin Sands is the coordinator for the Kansas City area and has been giving presentations for the last six years.

"You've got to like people and be comfortable in front of people," he said. "I just like communicating."

Sands, 73, a retired Southwestern Bell employee living in Independence, says the financial presentations will fit nicely with other AARP topics, such as avoiding fraud.

"You want to make sure you don't outlive your financial structure," he said. "You need to know how to map out a strategy and how to pick a financial adviser who's looking out for you."

Sergent said giving the presentations is often a learning experience for him, as he hears about the concerns and backgrounds of audience members: "It broadens my experience, realizing there are things going on I haven't known about."

To request a speaker, complete the online form at formsmarts.com/form/xfw.

Tim Poor is a writer living in Clayton, Mo.